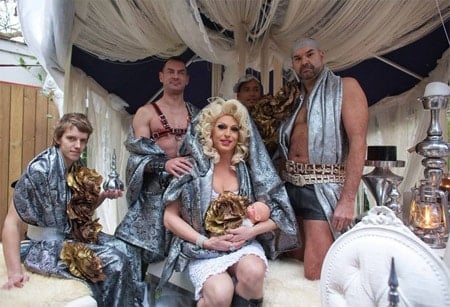 An event called 'Pink Christmas' opened in Amsterdam on Thursday, the AP reports:
"Organizers said the event was meant to raise Amsterdam's profile as a gay capital at a time when homosexuals feel threatened. Christians for Truth, an independent religious group, had asked the city council to cancel the 'Pink Christmas,' event, saying it made a mockery of Christian tenets. The city did not comment. A male entertainer known as Wendy Mills posed as Mary in a blonde wig and high-heeled black boots and holding a plastic doll. Another man played Joseph in black leather trunks and a silver shawl. The five-person manger scene was staged off the street, in the courtyard of a nightclub. Visitors were invited to be photographed with the group."
Amsterdam City Council sponsored the 'Pink Christmas' event, which features vendor stalls and gay-themed holiday card sales, at a cost of $21,000.
Said the event's chairman Frank van Dalen: "Our objective is not to be offensive. This is about visibility."
So nice of Amsterdam to broadcast to the world that the gay community is made up of drag queens or kinky leather fetishists. No doubt this story will get much more play for its colorful theatrics than the candlelight vigils that went on across America Saturday night.
A group called Christians for Truth objected to Amsterdam's event in a statement: "By portraying Joseph and Mary as homosexuals, a twisted human fantasy is being added to the history of the Bible."
One more shot, AFTER THE JUMP…