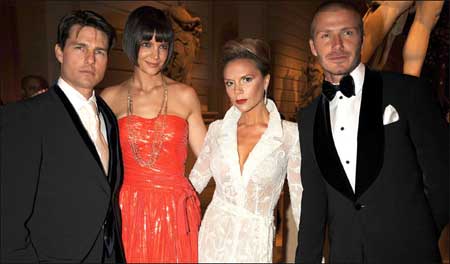 This is really off the creepy deep end:
"Tom Cruise is to merge his family with Victoria and David Beckham's in a special ceremony. The 'Valkyrie' actor will hold the bizarre service – during which the families vow to be brothers and sisters and exchange heartfelt speeches – at his wife Katie Holmes' New York town house. The gesture serves as a Thanksgiving present from Tom – who has two adopted teenage children, Isabella and Connor, with ex-wife Nicole Kidman and a two-year-old daughter, Suri, with Katie – to the showbiz couple. A source said: 'Tom and David have been friends for years and they and their families spend a lot of time together. This year Tom wanted to make a special gesture that would show how much he appreciates their friendship and he thought this would be the perfect way.'"
The couples shared carriage rides and pizza this weekend.
Does L. Ron Hubbard join them on the honeymoon?