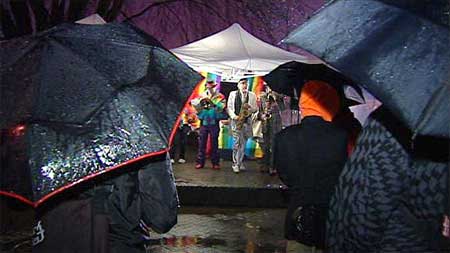 Fred Phelps' hateful Westboro Baptist Church failed to make good on a promise to picket a performance of The Laramie Project at Havana Café in Vancouver on Friday night, but they would have been stopped in their tracks:
"The church's threat to interfere with the play triggered a huge response from Vancouver's gay community, whose members showed up at the café Friday night to counter any protest by the church. 'It's really important that we take a stand but not a stand out of anger, a stand out of caring and kindness,' said Jim Deva of Little Sister's bookstore, which sells gay and lesbian-related literature. 'I think you defy hatred by love. That's how you deal with hatred, and you open up the dialogue and you begin conversing and talking,' Deva said."
Although WBC did not show, the peaceful protest, which included live music, went on anyway.
Watch video of the demonstration, AFTER THE JUMP…