The numbers are in on Proposition 8: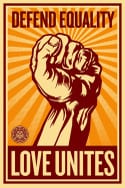 "Final election results show that 599,602 more California voters cast ballots in favor of outlawing same-sex marriage than voted to keep such unions legal. The official tally certified Saturday by Secretary of State Debra Bowen has Proposition 8 passing 52.3 percent to 47.7 percent — the same spread the gay marriage ban held based on early results from the Nov. 4 election. The final numbers indicate that Proposition 8 passed in 43 of the state's 58 counties. The measure secured its greatest support in Kern and Tulare counties, where three-quarters of the voters approved it. Opposition was strongest in Marin and San Francisco, where three-quarters of voters rebuffed Proposition 8."
Here's a report on the most recent forum/finger-pointing session last week in West Hollywood.