Quinnipiac Poll: Connecticut voters back same-sex marriage. "Fifty-two percent say they support the ruling, while 39 percent oppose it. Nine percent are undecided. But voters strongly oppose amending Connecticut's constitution to ban same-sex marriage, 61 percent to 33 percent. The same poll of 1,445 registered voters gives Senators Joseph Lieberman and Christopher Dodd their lowest approval ratings in the survey's history."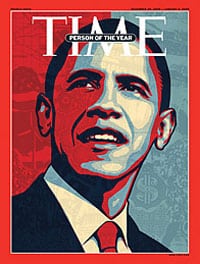 Obama named 'TIME Person of the Year'.

Tom Cruise draws everyone's attention to his ass.

Reverend Irene Monroe: Gay is not the new Black. "How the marriage debate should have been framed — in a way that speaks truth to various queer communities of color and classes — has not been given considerable concern. And with no public language to adequately articulate the unique embodiment of queer communities of color and classes within the same-sex marriage debate, this has become contentious. The dominant white queer languaging of this debate, at best, muffles the voices of these communities, and, at worst, mutes them. In other words, in leaving out the voices of queer communities of color and classes, the same-sex marriage debate is hijacked by a white upper class queer universality that not only renders these marginalized queer communities invisible, but — as it is presently framed — also renders them speechless."

2008 ninth warmest year since 1880: "…all of the nine warmest years have occurred in the past 11 years, NASA reported on Tuesday."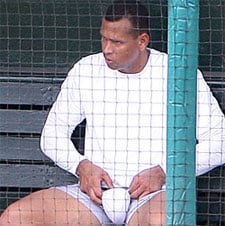 Protecting Madonna's prized possession.

Magazines sacrificing websites to save print editions: "The operating policy now, particularly at Condé Nast, basically reads: Revenue first! Future later. And the printed page, the luxury object, is still where you find the money these days."

Shoe-throwing Iraqi journalist appears before judge: "The court decided to keep Muntazer al-Zaidi in custody, and after an investigation is carried out the judge may send him for trial under a clause in the Iraqi penal code that punishes anyone who attempts to murder Iraqi or foreign presidents. Such a crime could result in imprisonment of seven to 15 years. His brother claimed yesterday that the television reporter had been beaten in custody. Zaidi suffered a broken hand, broken ribs, internal bleeding and an eye injury, his older brother, Dargham, told the BBC."

The only part of Matthew McConaughey's Surfer Dude you ever need to see (NSFW).

New gay bar to open in Cathedral City near Palm Springs.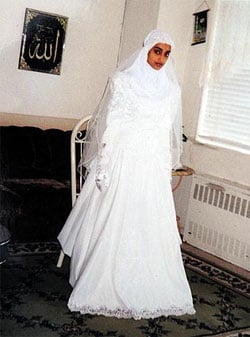 L.A. Times profiles Aliyah Bacchus: "There she is at 17, barely 90 pounds, smiling sourly on her wedding day in Queens, N.Y., dressed in hijab — a pearl-toned princess bridal gown shimmering with beads, her slender hands dipped in sleek white gloves, a veil attached to a white qimar, or head scarf, fastened snugly around her face. The man her father chose for her stands behind Aliyah wearing a black bow tie, his hands resting on her bony shoulders. That was before. Before she walked out on the marriage. Before her Guyana-born Muslim family discovered she was gay. Before she fled."

Conservative attorneys protesting revision to Arizona Bar oath which adds sexual orientation to an anti-discrimination clause. It reads: "I will not permit considerations of gender, race, religion, age, nationality, sexual orientation, disability, or social standing to influence my duty of care."

Robert Pattinson, a pirate he will be.

Satellites observe largest-ever breach of Earth's magnetic field: "Scientists have long known that the Earth's magnetic field, which guards against severe space weather, is similar to a drafty old house that sometimes lets in violent eruptions of charged particles from the sun. Such a breach can cause brilliant auroras or disrupt satellite and ground communications."

Scottish students mourn gay fellow classmate who died in accidental fall from balcony.

Swedish high court rejects same-sex marriage performed in Canada: "The court referred to the definition contained within Swedish legislation covering marriage, concluding that the term applies only to a union between a man and a woman while a union between two people of the same sex is designated as a partnership."