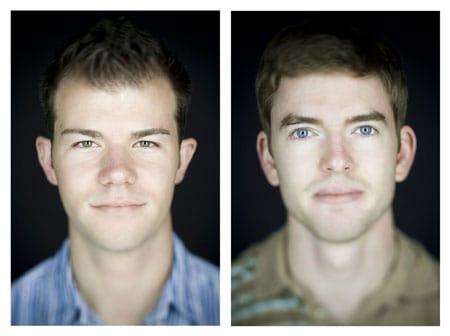 Here's an interesting piece in the Mormon Times that is framed by discussion of the gay-themed photo exhibit at BYU which was taken down earlier this week, and then re-hung after outcry.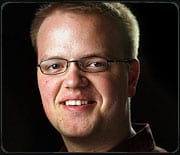 In the piece, McKay Coppins, a 'single Mormon twentysomething', writes: "On the fourth floor of the Harris Fine Arts Center at BYU, there is an exhibit displaying eight photographs, each depicting a Mormon male. The plaque next to the photos explains that some of the men pictured identify themselves as homosexual BYU students; the others are people who lend support to their friends struggling with same-sex attraction. There are no labels to distinguish between the two groups."
Coppins article uses the exhibit in arguing for a more reasoned approach from the Mormon church as to what's behind the anger from gays and allies angry over the passage of Proposition 8.
***
"If we want to claim true Christian discipleship, we should start with a Christlike understanding of what is motivating our 'enemies.' So here I offer a summary of some of their arguments and encouragement to reconsider some of our own.
"One credible argument they employ is that banning homosexual marriage promotes promiscuity in the gay community. Proposition 8 could discourage gays from settling down and starting families, therefore forcing them to live the single life forever.
"Now, of course, their point is debatable — especially considering the Proclamation to the World — but it's not absurd. And yet, when I brought it up with one of my roommates, he immediately rejected the notion with a look of disgust. No coherent arguments were formed, but he just could not accept that gay activists might actually have something reasonable to say. Maintaining this attitude does nothing to prove our Christianity to the world.
"We should also try to understand why this is such an important issue to the gay community. Even though it could be argued that civil unions guarantee homosexuals the same constitutional rights married heterosexuals have, we, of all people, should recognize the merit of actual marriage. This is why we fight for what we believe is the only way to maintain the sacredness of the institution. But the fact that we disagree on the fundamental definition of marriage doesn't mean that we can't acknowledge why they would want it.
"Finally, it's important to remember that those who are spray painting our places of worship do not make up the majority of homosexuals in the country; and many of the protesters aren't even gay. Making inaccurate generalizations regarding large groups of people probably isn't something we want to get involved in, considering our current situation."
***
Coppins concludes: "As I finish this column, I am sitting on a bench next to the display, listening to a group of students discuss the art. Their comments make me proud and remind me that the people for whom I wrote this article do not necessarily make up the majority of my generation. They are firm in their moral conviction and testimonies while recognizing that the line between 'us' and 'them' might be more blurred than many of us realize."
Now there's a piece that resonates about censorship as well. Would Coppins have been able to draw his conclusions had the photo exhibit been left down?