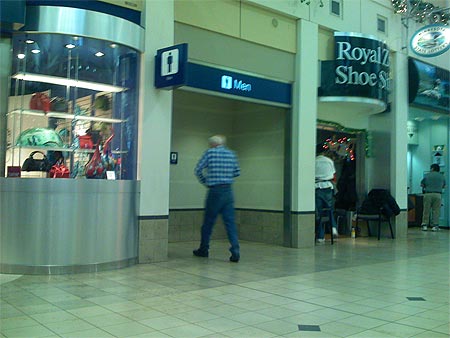 =
Earlier this month, Larry Craig lost his appeal in the Minneapolis men's room sex sting case, and now it appears that the transportation tearoom where it all took place is suffering the same fate:
"'We're getting there,' said Patrick Hogan, director of public affairs for the Metropolitan Airports Commission. 'I think we'll all be glad when there's no special interest in that restroom.' … One person had offered to buy the restroom stall for $5,000, Hogan said, but airport officials 'don't sell fixtures for novelty purposes.' Though tourist interest has withered, the surge of publicity from Craig's arrest helped end the type of activity in the restroom that had prompted lewd-conduct complaints, he said. Plans to modify the restroom to prevent occupants from passing signals were scrapped because complaints dropped."
Photo above from this blogger's tourist visit last Christmas.
And, the best Larry Craig quote of 2008, AFTER THE JUMP…