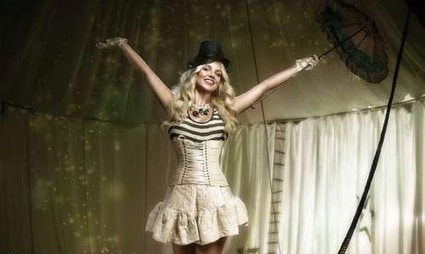 Robbie Daw presents a weekly pop music update here on Towleroad! Robbie runs his own site called Chart Rigger.
There are no doubt some Britney Spears fans amongst the readers of Towleroad, so it's time to turn it over to you guys. What do you think of Circus?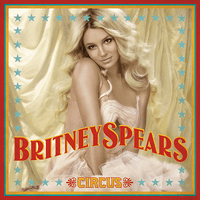 Her sixth studio album, Circus is out today, one month shy of the 10-year anniversary of her debut …Baby One More Time's release date. Britney was in Europe last week promoting the album by performing current single "Womanizer" on television shows such as France's Star Academy and U.K. talent competition The X Factor.
The video for her Dr. Luke/Benny Blanco-produced new single "Circus" premieres this Friday on Entertainment Tonight. It was directed by Francis Lawrence, who previously did Spears' "I'm A Slave 4 U" clip.
Circus also sees Britney reunited with Swedish hitmaker Max Martin—albeit on one song, "If U Seek Amy"—who crafted her classic singles "…Baby One More Time," "(You Drive Me) Crazy" and "Oops!…I Did It Again."
STANDOUT: For casual listeners, the main cut worth checking out is the dreamy dance jam "Unusual You." It was produced by Bloodshy & Avant, the duo behind Britney's award-winning hits "Piece Of Me" and "Toxic." How this wasn't the second (or first) single is anyone's guess.
Finally, happy birthday, Britney.

A FEW CLIPS FOR THE WEEK:
BRITNEY SPEARS: Doing new single "Circus" today on Good Morning America.
THE KILLERS: "Losing Touch," the opening track off new album Day & Age, live on FUSE.
MGMT: Performing "Kids" on French television show Le Grand Journal De Canal+ on Thanksgiving Day.
"KIDS," A CAPPELLA: As done by Northfield, Minnesota's Carleton Singing Knights of Carleton College.

TODAY'S NEW RELEASES: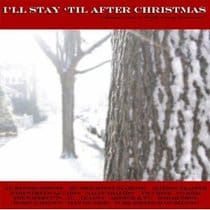 New singles from Mariah Carey ("Right To Dream"), Franz Ferdinand ("Ulysses") and Lionel Richie ("Good Morning").
Sia's "Buttons" EP, featuring remixes by CSS and Filterheadz.
The Decemberists' Always The Bridesmaid, Volume 3 EP.
Akon's third album Freedom.
The holiday collection I'll Stay 'Til After Christmas, featuring Sally Shapiro's haunting "Piano Mix" of "Anorak Christmas."
The Cadillac Records motion picture soundtrack, with songs by Beyonce, Solange, Mos Def, Mary Mary, Nas and Buddy Guy.