A big deal went down between Democrats in the New York Senate today forged by pressure from the so-called gang of three (Sen. Carl Kruger, Sen.-elect Pedro Espada Jr., and Sen. Ruben Diaz), and the likeliness of a same-sex marriage vote coming to pass in the next session of the legislature went down the tube as a result, even though the deal gives Democrats a solid majority.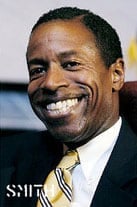 The New York Daily News has the details.
And here's the unacceptable part:
"A bill to legalize same-sex marriage will not be brought to the floor of the Senate for a vote this year. Smith will announce that he does not believe the measure has sufficient votes to pass – a statement that is at this point undoubtedly true, although it's unclear how long that will last if, as Democrats are hoping, the prospect of being in the minority leads to mass GOP retirements."
If you're on Facebook (especially in NY), you may want to join this group. The name is about to be changed. The new group will serve to:
1. Gather support nationwide to show our opposition to these Senators.
2. Organize demonstrations that will make these Senators feel our political power and show our political support for Malcolm Smith.
3. Organize efforts to oppose any effort on the part of these legislators to interfere with the pursuit of marriage equality in New York, be it legislatively or by referendum.
Background
New York Marriage Equality Bill a Big Question Mark [tr]
A Thanksgiving Thaw for New York Democrats? [tr]
'Rogue' NY Senate Democrats Use 'Gay Marriage' as Bargaining Chip [tr]