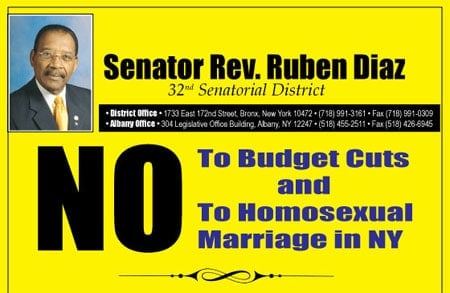 Above, a flyer sent out by Democratic New York Senator Ruben Diaz Sr., who hates gays and loves Pastor Rick Warren, as a response to a recent ad taken out by the Working Families Party targeting the constituencies of Sens. Diaz and Espada in the Bronx urging voters to convince their leaders to get behind majority leader Malcolm Smith.
The flyer also states, according to NY's Intelligencer, "I am still a Democrat. And I will always be a Democrat."
As for the newspaper ad, Elizabeth Benjamin of the NYDN reports: "Again, the gang's ringleader, Brooklyn Sen. Carl Kruger, is not the focus of (the ad), which comes on the heels of mailers by 32BJ to some 8,000 of its members in the Bronx. The mailers also asked recipients to call the offices of Espada and Diaz and urge a quick, pro-Smith resolution of this stalemate. It appears Smith is content to let outside interests like the WFP, the unions and the Empire State Pride Agenda turn up the heat on the renegade trio while he takes a break from negotiations. In light of the monstrous mess that undermined the last deal, perhaps this isn't such a bad idea."
If you'll remember, a deal between Smith and the "gang of three" (Diaz, Kruger, and Espada) fell apart when Smith decided his moral standing would be reduced by bargaining away civil rights because the deal hinged on same-sex marriage as a bargaining chip.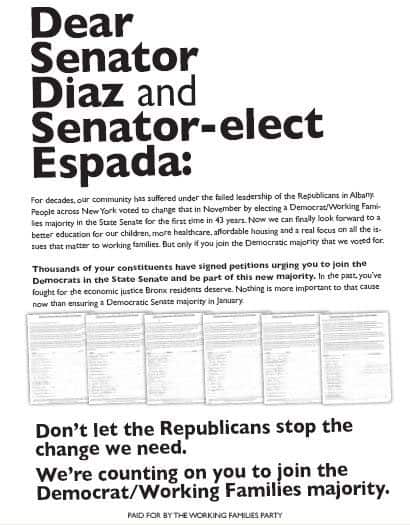 Diaz: 'I Am Still a Democrat. And I Will Always Be a Democrat' [intelligencer]
Outside Influences [nydn]
Previously
NY Senator Ruben Diaz Sr. Clarifies Threatening Statements [tr]
New York Senate Democrat Deal Falls Apart, Smith Issues Statement [tr]
NY Senator Diaz Sr. Issues Threat to Gays as Dem Deal Breaks Down [tr]
NY's Gov Paterson: From 'Hands-On' to 'Hands-Off' on Gay Marriage [tr]
NY Gay Leaders Await Answers on Marriage Element of Dem Deal [tr]
New York Democrats Strike Deal; Same-Sex Marriage Vote Tossed [tr]
A Thanksgiving Thaw for New York Democrats? [tr]
'Rogue' NY Senate Democrats Use 'Gay Marriage' as Bargaining Chip [tr]