Pastor Rick Warren defended his invitation to Obama's inauguration at the 8th Annual Convention of the Muslim Public Affairs Council in Long Beach, California Saturday, according to the AP: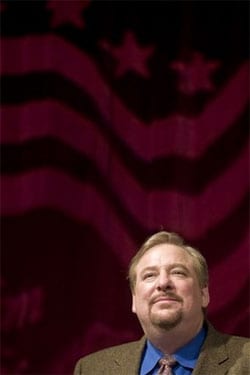 "Under fire for opposing gay marriage, influential evangelical pastor Rick Warren said Saturday that he loves Muslims, people of other religions, Republicans and Democrats, and he also loves 'gays and straights.' The 54-year-old pastor and founder of Saddleback Church in Southern California told the crowd of 500 that it's unrealistic to expect everyone to agree on everything all the time. 'You don't have to see eye to eye to walk hand in hand,' said Warren…Toward the end of his speech on Saturday, Warren also talked about singer Melissa Etheridge, who performed earlier in the evening. Warren said the two had a 'wonderful conversation' and that he is a huge fan who has all her albums. The openly lesbian gay rights activist even agreed to sign her Christmas album for him, he said."
More on that meeting from Juan Cole:
"I was told that Warren's friends among the MPAC Muslim community had urged him to call Melissa Etheridge Friday night in the run-up to their being (serially) on the same stage Saturday night, and that he did so and they talked for half an hour. During his address, Warren mentioned also seeing Etheridge backstage on Saturday. Local television in Los Angeles showed a short clip of Etheridge after the event asking gay leaders to reach out to Warren, just as they wanted him to reach out to them. This stance was big of her, since she and her partner had planned to marry but were prevented from doing so by the same Proposition 8 that Warren worked for, and she was so upset she suggested she would refuse to pay California taxes since she is obviously not considered a full citizen by her fellow Californians."
Meanwhile, Etheridge's partner Tammy Lynn Michaels, seems to have bought Warren's bullsh*t hook, line, and sinker.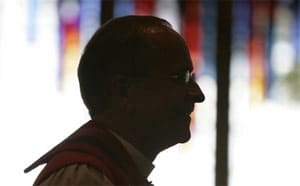 Gay Episcopal Bishop Gene Robinson, who advised Obama several times during his campaign, weighed in on the invitation to Rick Warren, and said that hearing about the selection was like was like "a slap in the face.":
"I'm all for Rick Warren being at the table, but we're not talking about a discussion, we're talking about putting someone up front and center at what will be the most watched inauguration in history, and asking his blessing on the nation. And the God that he's praying to is not the God that I know."
Richard Socarides, former special assistant to President Bill Clinton in charge of gay and lesbian policies, also spoke to the NYT:
"[The decision is a] serious miscalculation that will anger a lot of people and will be hard to undo. It's not like he's introducing Obama at some campaign rally in the South. He's been given this very prominent, central role in the ceremony which is supposed to usher in a new civil rights era."
Also, doughnut campaign underway: "So one gay rights advocate is encouraging supporters of gay marriage to "return the favor" by sending Mr. Warren gift cards to Dunkin' Donuts. The gift cards, which cost a minimum of $10, can be personalized with pictures of gay couples and supporters. The effort was conceived by Tom Leonard, an Internet marketing consultant in Burbank, Calif., who also created ZeroH8.tv, which is working to place ads in support of gay marriage on cable networks in the wake of a new gay marriage ban in the state."
Melissa Etheridge made remarks after the MPAC event. Watch them, AFTER THE JUMP…
More
Katha Pollitt in L.A. Times: Rick Warren is an insulting choice.