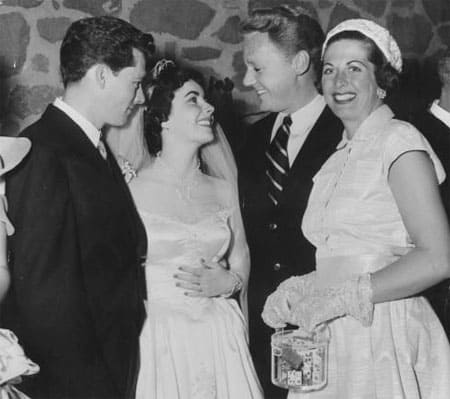 Hollywood heartthrob Van Johnson died on Friday in Nyack, NY. He was 92. The mainstream media makes no mention of the fact that he was a closeted gay man. It's Merv Griffin all over again.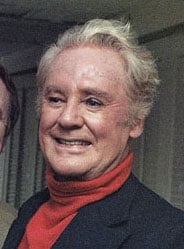 The NYT obituary:
"Mr. Johnson shocked MGM and dismayed his fans in 1947 when he stole the wife of his best friend, the MGM character actor Keenan Wynn. But by the time he married Evie Wynn, he was too big a star for the studio to punish. They had a daughter, Schuyler, in 1948, separated in 1962 and were divorced in 1968. Mr. Johnson did not remarry."
The L.A. Times:
"In January 1947, Johnson married Eve Wynn, the former wife of his close friend, actor Keenan Wynn. Johnson married Wynn, the mother of two young sons, in Juarez, Mexico, only four hours after she had obtained a Mexican divorce. (The marriage, which produced a daughter, Schuyler, ended in divorce in 1968.) Johnson's marriage had a profound effect on his youthful female fan base. A widely circulated joke at the time said that when Johnson's young female fans found out that he had gotten married, they wore their bobby socks at half-mast."
In the photo above, Johnson and Evie Wynn with Liz Taylor and Conrad Hilton at their wedding in Beverly Hills in 1950.
Evie Wynn's obituary in The London independent in 2004, went into far greater detail about her relationship with Johnson:
"Many of his fans were alienated when he married Evie the day after her divorce from Wynn, while those who were aware of Johnson's sexual ambivalence wondered how genuine the marriage could be. In 1999, when Evie was bitter and near poverty, she finally stated that MGM had persuaded her to marry Johnson, one of their top stars of the Forties. 'They needed their 'big star' to be married to quell rumours about his sexual preferences,' she said, "and unfortunately, I was 'It' – the only woman he would marry.'"
"In January 1947 Evie and Wynn were finally divorced, and the following day she and Johnson were wed. Although rumours quickly circulated that the MGM chief Louis B. Mayer had ordered the union to cover up potential scandal, the truth is cloudy. The writer Arthur Laurents states in his memoirs, 'A sunny male star caught performing in public urinals once too often was ordered by his studio to get married. His best friends, a young comedian and his wife, divorced so that he could marry the wife.'
"In 1960 Evie sued Johnson for divorce, citing cruelty and his causing 'grievous mental suffering', and a few weeks later she sued Wynn for 'fraud and breach of contract' in their property settlement and for failing to pay child support. She was briefly reconciled with Johnson and travelled with him to London in 1961 when he starred on stage in The Music Man, but the couple finally parted when Johnson began an affair with a member of the show's cast. Ned Wynn writes that his mother told him that Johnson had left her 'for a man – a boy, really. He's the lead boy dancer.'" Their eventual, acrimonious divorce (Johnson called it 'the ugliest divorce in Hollywood history') was made final in 1968."
Van Johnson, Film Actor, Is Dead at 92 [nyt]
Van Johnson, MGM's boy-next-door, dies at 92 [la times]
Obituary: Evie Wynn Johnson [independent]