This has already been a busy week with regard to Proposition 8. Many new briefs have been filed in the legal arguments for and against the measure, all surrounding AG Jerry Brown's legal brief filed in mid-December which asked the state Supreme Court to void the measure in a stunning reversal from his earlier position.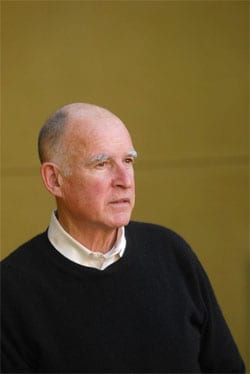 Legal briefs were filed Monday challenging Jerry Brown's attempt to invalidate Prop 8: "Gay-marriage opponents filed legal briefs…accusing California Atty. Gen. Jerry Brown of having 'invented an entirely new theory,' one that 'fails at every level,' in his quest to find a reason to invalidate Proposition 8, which passed with 52% of the vote in November. 'The people have the final word on what the California Constitution says,' lawyers for the Protect Marriage Coalition wrote. 'The practical result of the attorney general's theory is that the people can never amend the Constitution to overrule judicial interpretations of inalienable rights.' The filing, which was co-written by Whitewater prosecutor and Pepperdine Law School Dean Kenneth Starr, came in response to a brief filed two weeks ago by the attorney general in which Brown surprised legal experts with a novel theory to argue that Proposition 8 should be invalidated."

Local governments also filed new briefs backing Brown's argument: "Local governments, led by San Francisco and Santa Clara County, filed their latest opposition papers to Proposition 8, describing the voter-approved initiative as a 'dark moment' in California history. The brief is an attempt to refute the legal arguments of Proposition 8 backers as the Supreme Court weighs a challenge from government officials, civil rights groups and same-sex couples who are seeking the right to marry. The San Francisco brief sides with the unique argument raised in December by Attorney General Jerry Brown, who argues that voters did not have the authority to strip away a fundamental constitutional right when they approved Proposition 8 in November. Brown, who ordinarily would be forced to defend state law, argued in his December brief that the state Supreme Court's decision last spring striking down California's prior gay marriage ban established that fundamental right to marry."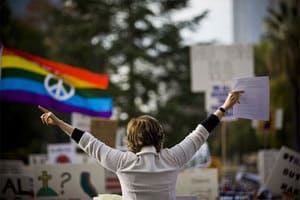 Attorney Gloria Allred, who is representing Robin Tyler and Diane Olson & Cheri Schroeder and Coty Rafaely in their suit against Prop 8, also filed a reply brief — one that took issue with Brown's argument.
Wrote Allred in a release: "We sued the State of California (Nov. 5, 2008) in this challenge. The State is represented by the Attorney General, and we were happy that the Attorney General responded to our petition to the Supreme Court by agreeing with us that Prop. 8 is unconstitutional. However, we replied to the Attorney General in our brief today because we strongly disagree with his legal position that Prop. 8 is an amendment rather than a revision to the California Constitution. The Attorney General agrees with the Prop. 8 proponents on that issue. This is an extremely important legal point and could be key to the Supreme Court's ultimate decision in this case. Because we are convinced that Prop 8 is a disguised constitutional revision and not an amendment to the Constitution, we believe that the proponents of Prop. 8 did not follow the correct procedures in attempting to make a fundamental constitutional change which would eliminate the basic human and constitutional right to marry for gay and lesbian individuals in California. If our legal argument is persuasive on this point then Prop. 8 could be ruled invalid for that reason alone."

The Sacramento Bee looks at Jerry Brown's controversial role challenging the passage of Prop 8: "It's a move that could pay political dividends in a June 2010 Democratic primary against another likely gubernatorial candidate, San Francisco mayor and gay marriage champion Gavin Newsom…His intervention is hailed in heroic terms by Proposition 8 opponents – even though Brown also rejected the opponents' core legal argument challenging the initiative…Yet gay marriage opponents say Brown is abandoning his statutory role as attorney general by refusing to represent the majority of voters who approved Proposition 8 as an amendment to the state constitution."
Here is the California Supreme Court's official page containing all the Prop 8 filings.
(image Michael A Jones – Sac Bee)