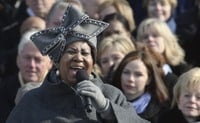 Aretha Franklin's inauguration hat inspires church ladies and drag queens nationwide.

Wall Street dives, has worst inauguration day ever.

VIDEO: What beards do and don't go with.

Dr. Strangelove: Dick Cheney does inaugural in wheelchair.

Study: Pre-exposure HIV prevention pill. Expensive, toxic, but will it work?

Poll: 63% of Utahns support some LGBT rights.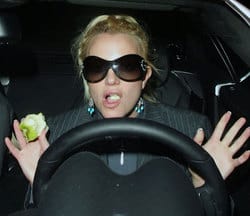 £10 million for Britney Spears autobiography? "She's kept diaries so there's
nothing she'll leave out unless she wants to. Britney will talk frankly
about growing up and how she went off the rails. It'll be a gripping
read." Uh, yeah. Gripping.

NYC expected to lose 181,000 jobs in 2009. Also to be hard hit: LA, Miami, Boston.

Haters organize to fight coming marriage equality bill in Maine legislature.

Vote for Obama's hottest staffer. We suggest Jon Favreau, despite the tie.

VIDEOS: Rev. Joseph Lowery and Rev. Rick Warren pray at the inauguration. Good witch, bad witch.

House Speaker Nancy Pelosi: "We made not have the right to ignore illegal acts of Bush administration." Know hope. For prosecutions.

Drop Dead Diva, starring Margaret Cho, is coming to Lifetime. Synopsis:
"When beautiful-but-vapid model
wannabe Deb has a fatal car accident, she suddenly finds herself in
front of Heaven's gatekeeper, Fred, who declares her a self-centered
"zero." Outraged, she attempts to persuade Fred to return her to her
shallow existence but is accidentally relegated to the body of the
recently deceased Jane Bingum (Brooke Elliott). A brilliant, thoughtful
and plus-size attorney with a loyal assistant (Margaret Cho), Jane has
always lived in the shadow of her more comely colleagues whereas Deb
has always relied on her external beauty. Now, by a twist of fate and a
bolt of divine intervention, both personalities must learn to coexist
in Jane's plus-size frame in the ultimate showdown between brains and
beauty.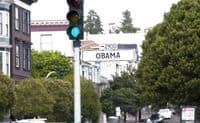 Local artist Alex Zecca managed to rechristen a long stretch of signs along San Francisco's famous Bush Street today before the coppers caught on to his sticker schtick.

Michelle Obama's hidden power: "Nobody will consider it surrender if Michelle
Obama spends more time caring for her children than making policy. On
the contrary, she will be admired for it."

New Yorkers drop everything to watch inauguration from Times Square.