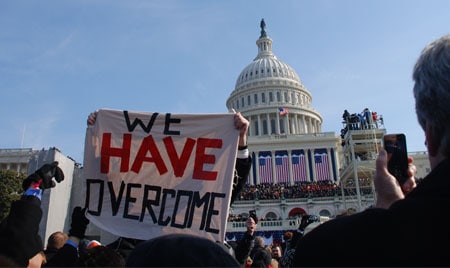 I'd like to thank Joe Jervis from Joe.My.God for doing a thorough job of keeping you informed in these past two days while Corey and I have been covering the Inauguration in Washington, DC. I hope you've also enjoyed the videos and photos we've posted so far. It was so busy over the past four days I haven't had a chance to edit the bulk of the videos we shot while here, so you'll be seeing them in the next day or so as "Inauguration Extras".
I'll also be traveling for a good portion of the day Wednesday, so I'll be posting more videos along with our regular programming as soon as I'm able.
Below is a satellite photo of yesterday's inauguration. Crowds are seen as brown clusters on the National Mall. Higher definition versions can be viewed here.
Cnet reports: "GeoEye-1, the satellite that will supply Google with high-resolution imagery of the Earth, took a high-resolution photograph of the inauguration of President Barack Obama. The satellite is expected to start producing data for Google in coming weeks, but in the meantime, this shot shows a bit more tantalizing detail about what will show in Google Earth and Google Maps. It was taken from 423 miles up as the 4,300-pound satellite traveled 17,000 miles per hour."