Tennessee hotel employee David Hill says he was fired for being gay: "They literally said to me because of my orientation and my alternative lifestyle, that I was not a fit for the hotel. The owner (Tarun Surti) said, 'I don't give a damn. They can sue me. I will not have any of the gays in leadership roles in my hotel.' And that's a quote."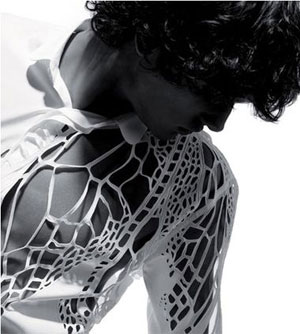 Karl Lagerfeld lets you see all the way through to Marlon Teixeira for Dior Homme.

The day Eartha (Kitt) stood still.

In case you were wondering what Rocco Dispirito's packing.

Lesbian couple invited on Inaugural Whistle Stop Tour: "Today the 2009 Presidential Inaugural Committee announced the names of 16 families who will join President-elect Obama and Vice President-elect Biden on their Whistle Stop Tour to D.C. the Saturday before the inauguration. Lesbian couple Lisa Hazirjian and her partner Michelle have been invited to join the Whistle Stop Tour and appear onstage with Obama and Biden during events. Hazirjian, who is from Ohio, serves as an at-large board member of Equality Ohio, as a member of the Cleveland Stonewall Democrats and as a volunteer for Cleveland Families Count, an organization formed to defend the new domestic partner registry in the city."

Four-yolk egg found.

UK Sun: Sacha Baron-Cohen sure to piss off religious groups with Bruno film. "The gay fashion correspondent from Austria, played by Sacha looks set to infuriate religious groups with one of the key characters a black model called Jesus who wears a loincloth and a crown of thorns. Test audiences in the US have seen an early edit and the more religious members at the screenings failed to see the funny side."

Kanye West is pretty sure he'll pose naked in the next two years.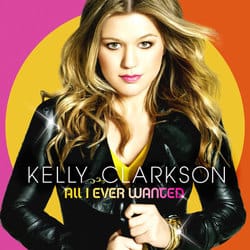 A preview of Kelly Clarkson's new single "My Life Would Suck Without You." Here's the album cover art, BTW.

Police hunt gay basher near Manchester, UK: "Police are hunting a hompohobic thug who beat up a man outside a Preston takeaway. A man made anti-gay taunts towards the 19-year-old student in the Spice of Bengal in Friargate at 3am on January 6. He then repeatedly punched the teenager outside the takeaway, leaving him needing hospital treatment for cuts and bruises to his face. The offender, who fled in a taxi, is described as about 19, 5ft 8in, slim and blonde."

With a Z: Liza Minnelli to join Neil Patrick Harris on Saturday Night Live?

Obama bringing Wii to the White House.

The running Jake.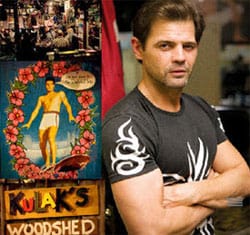 Charles Peyton (aka Jeff Stryker) at war with his neighbors: "Peyton's complaints boil down to his allegation that the folk club generates Studio 54–type pandemonium normally associated with large late-night urban venues: noise, drugs, unruly patrons, vandalism, graffiti, public urination and parking headaches. And because, among other infractions, Kulak was cited several years ago for not having a sound wall or offsite parking plan, Peyton habitually describes himas a criminal operating an outlaw club. In the past, Peyton also has claimed that noise from the club interfered with his attempts to write an autobiography in his next-door office."

Scientologist Cruise on Jett Travolta death: "I just don't have the words for it."

16-year-old smashes decade-old Ian Thorpe swimming record: "Kenneth To took almost half a second off the Australian Age boys 16 years 200m individual medley record with a 2min 04.31sec swim on Wednesday night at Sydney Olympic Park. The record had stood at 2:04.58 since 1999 when a teenage Thorpe was obliterating his opposition."