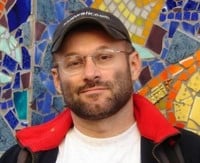 Veteran LGBT news reporter Rex Wockner is publishing a series of responses to his question, "How do you feel about the new president and what do you think he'll do for LGBT people?"
Among the bold-face names to respond so far: Edmund White, Larry Kramer, Lorri Jean, Dan Savage, Andrew Sullivan, Paula Ettelbrick, Kate Kendell, Peter Tatchell, John Aravosis, Felice Picano, Jon Davidson, Michael Musto, Scott Long, Patrick Sammon, Evan Wolfson, Ann Northrop, Amy Balliett, Chuck Renslow, Geoff Kors, and George Bakan.
I'm partial to Lambda Legal legal director Jon Davidson's response:
"I am hopeful — and also watchful. I want President Obama to lead us
all to a more inclusive and just America and to inspire the nation to
live up to its highest ideals. He can restore balance to the courts and
be the spark that re-ignites the fire for civil rights in our country.
And there is a clear list of goals — things that we need and have been
waiting for long enough: passage of an inclusive ENDA and hate-crimes
laws; repeal of 'Don't Ask, Don't Tell' and DOMA; fair policies for
people living with HIV. But I know that a leader — even one as
powerful as the president of the United States — has no magic power.
The power of a leader comes from people demanding change and standing
up when he becomes a voice pressing for it. We'll be there making those
demands. That's what each member of our community needs to do as well."
What's YOUR answer?