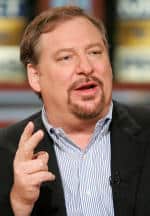 Evangelical leader Rick Warren faced a horde of gay protesters today as he entered an Atlanta church to commemorate Martin Luther King, Jr. Via the Washington Blade:
Several dozen gay rights activists braved chilly temperatures Monday morning to counter Rev. Rick Warren's keynote address at the Martin Luther King Jr. Day Commemorative Service at Atlanta's Ebenezer Baptist Church. As churchgoers and political leaders filled the Ebenezer sanctuary, protesters led by the Atlanta Black LGBT Coalition and GLBT ATL carried signs including "We still have a dream. Equality," proclaiming Warren incompatible with the slain civil rights leader's dream of fairness and justice for all people. Other progressive activists joined in the effort, with signs decrying war and bigotry, and supporting equal marriage rights.

"On a cold morning, I think it is right to stand in protest of the King Center's choice," said Atlanta resident Duncan Teague.

"Warren not only compares women having an abortion to Nazis, and pro-choice supporters to holocaust deniers, but he also opposed the right of lesbians, gays, bisexuals, transgender and queer folk to marriage, as well as [admittance] to his church," Craig Washington, a founding member of the Atlanta Black LGBT Coalition, said at a press conference last week officially announcing the MLK Day protest. "These views, these words, are acts of oppression," Washington said. "They are incompatible with the dream of the beloved community Martin Luther King envisioned, and the spirit with which Coretta Scott King founded the King Center."
Organizers of the event defended their invitation to Warren, citing his work on poverty, global warming, and AIDS. However, we know the real story about Warren's AIDS work, don't we?