Not that there's any dearth of hypocrisy in the GOP but here's a bit from RNC candidate and Michigan GOP Chair Saul Anuzis.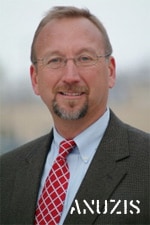 Via Ben Smith at Politico:
"Last November Anuzis forwarded an email praising [rival candidate Michael] Steele from the Log Cabin Republicans, the gay GOP group, to James Bopp, Jr., a prominent social conservative and RNC member, under the heading, 'You probably saw this…' Bopp then included the email in a packet of documents apparently intended to cast Steele as too 'moderate' for the chairmanship. A month later, on December 19, an Anuzis consultant, Katie Packer, exchanged email with the president of the Log Cabin Republicans, Patrick Sammon. Sammon sought a meeting with Anuzis, and Packer apologized that he was on vacation. 'I will pass your thoughts on to Saul,' she wrote. 'I think you will find him to be a very reasonable individual who does not seek to grow the party by dividing it.' Which is the sort of inclusive language that social conservatives have been using against Steele."
Smith has published the email exchange between Packer and Sammon.
According to Michael Jones at Change.org, who recently published a thorough look at all the RNC chair candidates, Anuzis supported efforts in Michigan to ban same-sex couples from getting married, supported a federal constitutional amendment to ban same-sex marriage, managed the campaign of former anti-LGBT Gubernatorial candidate Dick DeVos, and frequently ridiculed members of Michigan State's LGBT community online, calling them 'freaks' 'scum' and 'savages'."