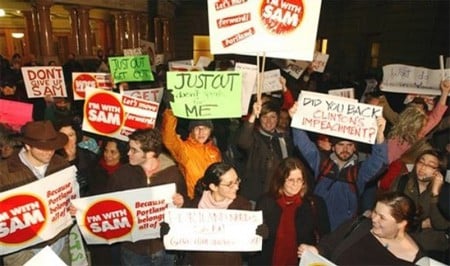 Portland's Willamette Week and other outlets report that embattled Mayor Sam Adams says he's staying on: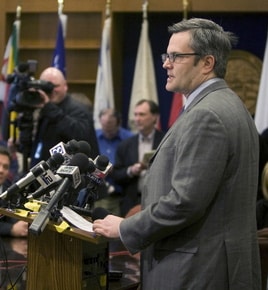 "WW has learned that Mayor Sam Adams will announce later today that he plans to return to work this week and will not resign. Commissioner Randy Leonard received a phone message from Adams at 8 am today that said 'regardless of what you think about me and regardless of what you think about the veracity of what I'm saying, I deserve due process and I'm going to stay on.' Leonard tells WWire that getting that message from Adams that he would remain on the job as mayor at the same time that the latest revelations were emerging is 'surreal.' He said he has not called Adams back. 'I don't know what I would say to him,' Leonard said. 'I can't believe what has happened in the last six days. Sam seems detached from reality,' Leonard said."
Adams met with Leonard and other city commissioners on Saturday. The controversy has left the city divided.
A rally was held in support of Adams on Friday night. Watch the report, which includes footage of Dan Savage, who traveled from Seattle to Portland to participate, AFTER THE JUMP…
Savage also notes, in The Stranger, that the only people who showed up to oppose the pro-Adams rally were the "Jesus freaks".
Adams last week revealed he had a consensual relationship with a then-18-year-old legislative intern named Beau Breedlove, but lied about it during his campaign.
Adams said that he met Breedlove when he was 17, but that the two were not involved in a sexual relationship until after Breedlove had turned 18.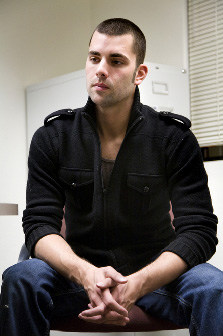 It's a claim Breedlove says is true. However, in an interview with The Oregonian published this weekend, Breedlove, now 21, says Adams kissed him on the lips twice while he was 17, "once in Adams' car and the other in the second-floor men's room in City Hall after a party that Adams, then a city commissioner, had in his office."
They were advances Breedlove says he welcomed: "I do not see any relationship that I ever had with Sam as me being taken advantage of. I do not feel like I was ever a victim. I may have been 17, but I was an adult, and I knew what I was doing…I saw it as a friendship that had crossed the line a couple of times, but I saw it as a friendship. When I say cross the line, I don't mean as an unwarranted or unwanted affection. I just didn't see it as something with any potential. … I saw it as that was the line that we had crossed a couple of times, was 'friends' to 'friends with benefits.'"
The Oregonian adds:
"On Saturday evening, Adams said he didn't recall kissing Breedlove after [their first] lunch. But Adams said that even if he did, his earlier denials stand. 'I said that there was no sexual contact before he was 18,' Adams said. Asked again whether he kissed Breedlove, Adams replied: 'I don't remember, but if I did, it was not sexual contact.' Adams abruptly ended the conversation after five minutes and referred questions to his attorney, Robert Weaver. Weaver said that even if Adams kissed a 17-year-old Breedlove, Adams broke no laws. 'There is nothing that (Breedlove) has said that is inconsistent with what the mayor has said,' Weaver said. 'The mayor has said there was no sexual activity. Kissing is not sexual activity.' The distinction is important legally. State law says third-degree sexual abuse, which is a misdemeanor, can occur when someone subjects another person to 'sexual contact' when the person either does not consent to the advance or is younger than 18. The law defines sexual contact as 'any touching of the sexual or other intimate parts of a person … for the purpose of arousing or gratifying the sexual desire of either party.' Adams is under criminal investigation by the attorney general's office."
Watch the news report on Friday night's rally, AFTER THE JUMP…