A study by by Patrick J. Egan, Ph.D., assistant professor of politics and public policy at New York University, and Kenneth Sherrill, Ph.D., professor of political science at Hunter College, CUNY, under the auspices of the National Gay and Lesbian Task Force Policy Institute shows that exit polls, which showed Black voters supported Prop 8 in overwhelming and disproportionate numbers, were greatly exaggerated when compared with actual data.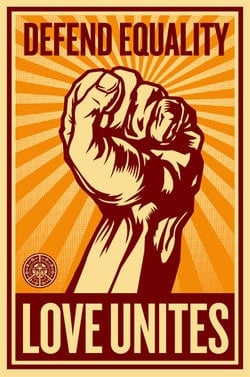 From an NGLTF press release (which you can read AFTER THE JUMP): "…the study found that the level of support for Proposition 8 among African Americans was nowhere close to the NEP exit poll 70 percent figure. The study looked at pre- and post-election polls and conducted a sophisticated analysis of precinct-level voting data from five California counties with the highest African-American populations (Alameda (Oakland), Los Angeles, Sacramento, San Diego and San Francisco). Based on this, it concludes that the level of African-American support for Proposition 8 was in the range of 57-59 percent. Its precinct-level analysis also found that many precincts with few black voters supported Proposition 8 at levels just as high or higher than those with many black voters."
Read more on the study results in the NGLTF press release, AFTER THE JUMP…
The SF chronicle reports: "That support among blacks is still well above the 52 percent Prop. 8 received from all voters in the Nov. 4 election. Much of that can be attributed to the strong religious tradition in the black community, where 57 percent of African American voters attend church at least once a week, compared with 42 percent of Californians overall."
Said Egan: "Party identification, age, religiosity and political view had much bigger effects than race, gender or having gay and lesbian family and friends."
Andrea Shorter, director of And Marriage for All, responded to the report: "The study debunks the myth that African Americans overwhelmingly and disproportionately supported Proposition 8. But we clearly have work to do with, within and for African American communities, particularly the black church."
Jaime Grant, director of the National Gay and Lesbian Task Force Policy Institute agreed, saying, "This is a wake-up call to the (lesbian, gay, bisexual, transgender) community. We must do a better job of organizing in the faith-based community, using LGBT people who are themselves part of that community."
Read more on the study results in the NGLTF press release, AFTER THE JUMP…
RELATED NEWS:
In other news, earlier this week we reported that longtime activist Robin Tyler had resigned from the planning committee for Equality California's upcoming Equality Summit because the group planned to limit media access. The story has been developing, and Queerty has more on the back-and-forth that's been going on. Not much has changed but things are a bit clearer at this point.
Final.press Release.new Prop. 8 Study.1.6.08