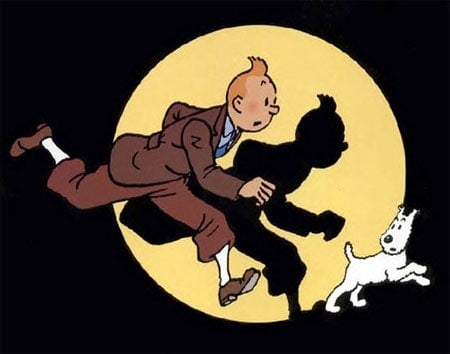 Matthew Parris, a well-known gay British columnist, radio and television presenter, and pundit, posted a lengthy column (a mad rant, perhaps) today, outing the comic character Tintin, created by Belgian artist Hergé.
Writes Parris: "What debate can there be when the evidence is so overwhelmingly one-way? A callow, androgynous blonde-quiffed youth in funny trousers and a scarf moving into the country mansion of his best friend, a middle-aged sailor? A sweet-faced lad devoted to a fluffy white toy terrier, whose other closest pals are an inseparable couple of detectives in bowler hats, and whose only serious female friend is an opera diva…And you're telling me Tintin isn't gay?"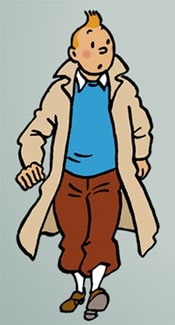 Among Parris' 13 points of argument:
"Background and origins: A total mystery. Tintin never talks about his parents or family, as though trying to block out the very existence of a father or mother. As psychologists will confirm, this is common among young gay men, some of whom find it hard to believe that they really are their parents' child. The "changeling" syndrome is a well-known gay fantasy.
"Domestic circumstances: Tintin does not, in fact, move in with his sailor-friend, Captain Haddock, until 1940 (The Crab With The Golden Claws). As is so often the case with male homosexual couples, a veil is drawn over how and where the couple met, but Tintin and his mincing toy dog Snowy are invited to share Haddock's country home, Marlinspike Hall. The relationship, however, is plainly two-way, for although when Haddock first meets Tintin (before the sea captain's retirement) he is drinking heavily and emotionally unstable, he is calmed over the years, settles down and is finally ennobled by his younger friend's companionship when, in Tintin in Tibet, he offers to lay down his life for him.
"Snowy: The only unambiguously heterosexual male mammal in Tintin's entire universe. We know that because of Snowy's tendency to be distracted by lady dogs: a tendency in which he is consistently foiled by his master and by Hergé's plot. Pity this dog, wretchedly straight and trapped in a ghastly web of gay human males."
Of course Tintin's gay. Ask Snowy [the times]