I'm thrilled to announce that Towleroad has been nominated for a 2008 Weblog Award, which is perhaps the best known and recognized awards competition for bloggers.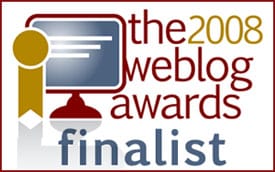 We're nominated in the category of Best LGBT blog. Voting begins today, and you can vote once every 24 hours on this page. Looking back on 2008, it's hard for me to believe everything that happened.
Some of the highlights:

The Democratic National Committee credentialed us for the Convention in Denver.


Corey Johnson joined us as Political Director.


Interviews with Barney Frank, Tammy Baldwin, Jared Polis, and Gavin Newsom.


Catholic League's Bill Donohue attacked us for our DNC credentials and got excited that he found men wearing jockstraps on our site!


Towleroad readers donated over $100,000 to the fight against Proposition 8.


Your participation gave us a big, proud picture of the Prop 8 protests and rallies around the nation.


Our comprehensive coverage of Milk, theatre, music, marriage, and hope!
You can cast your vote once every 24 hours until 5pm EST on January 12th.
The LGBT Category is HERE and other categories are HERE.
Also nominated for the 2008 LGBT Weblog Award are Blabbeando, Gay Patriot, JoeMyGod, Pam's House Blend, Susie Bright's Journal, Tammy Bruce, The Bilerico Project, This Girl Called Automatic Win, and TransGriot.
They're all great blogs, and you may be familiar with many of them. Pay them a visit if you get the chance.