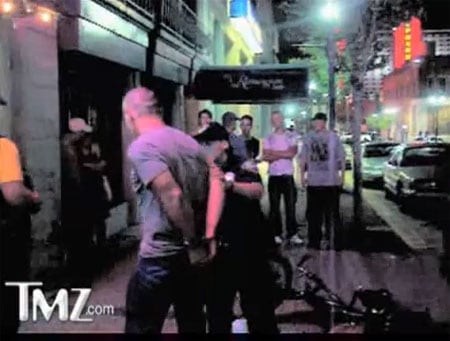 Charges against Josh Brolin and Jeffrey Wright over a bar fight in Shreveport, Louisiana in Julywill be dropped providing the actors pay their court costs of $130 each, following a court hearing today:
"The actors were with crew members from the Oliver Stone movie 'W.' about President George W. Bush. Police arrived after one crew member caused a fracas and was asked to leave. Police pepper-sprayed both Brolin and Wright, while Wright was also hit with an electric shock from a Taser weapon, Berk said. Prosecutors were not immediately available to comment."
A video also emerged today shot by a bystander outside the Stray Cat bar where the altercation took place showing Brolin reacting to pepper spray before being arrested, and Wright tasered while held down by officers in the street.
Watch it, AFTER THE JUMP…
Previously
George W. Bush and Colin Powell Actors Arrested in Bar Fight [tr]