The WaPo reports: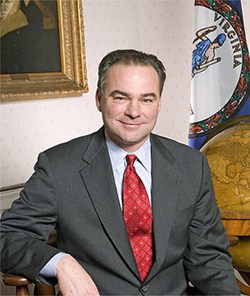 "Kaine, 50, who emerged as a finalist for the job of Obama's running mate last summer, will operate from Richmond in a part-time capacity until January 2010, when he will become the full-time DNC chairman. Kaine is constitutionally barred from running for reelection. Kaine, a friend of the president-elect's, is a gregarious chief executive who is known to relish political combat and helped put Virginia in the Democratic presidential election column for the first time in almost 50 years. Obama transition officials declined to comment yesterday, and aides to Kaine did not return calls seeking comment. Two sources said Obama will announce his choice of Kaine for the DNC post later this week."
Its a bit unclear what kind of supporter Kaine will show LGBT rights legislation on a national level although in September 2006, Kaine expressed his opposition to an amendment banning same-sex marriage in his home state of Virginia:
"Speaking to reporters in Richmond, Kaine said he will use 'the power of his office' to tell voters about what he says are the amendment's "unintended consequences" for both gay and straight unmarried couples. The amendment says in part that 'the state shall not recognize another . . . legal status to which is assigned the rights benefits, obligations . . . of marriage.'…'This is language I don't feel comfortable putting into the constitution,' said Kaine, who opposes gay marriage. 'I'm married. You ask what the benefits of marriage are? They are infinite. . . . Unmarried individuals are not entitled to any of those?'"
Anyone more familiar with Kaine's recent activity on gay rights, discrimination, etc, feel free to chime in.