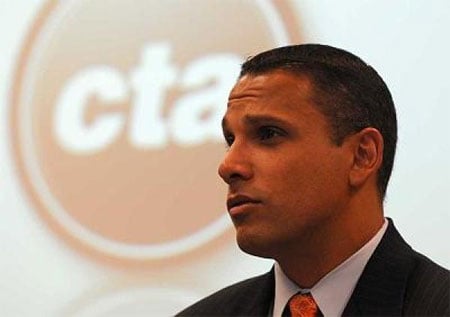 It was apparent based on the many comments that were left on news items last week that many people were already aware of the sexual orientation of newly-appointed CEO of Chicago Public Schools Ron Huberman, but Huberman discussed it in an interview yesterday with the Chicago Sun-Times:
"At 15, while attending Lyons Township High School, Huberman made a declaration that, at first, was difficult for his parents to accept: He's gay. 'It's always difficult for kids. It was difficult for my parents at first. But they've become very accepting and very supportive,' said Huberman, who lives with a partner who's a friend from college. They reconnected four years ago. 'It has given me a great sensitivity for the need to be inclusive. If I didn't grow up being part of a group that was viewed differently, I may not have that sensitivity. It makes me in tune to individuals, groups and others who are not fitting in and may need extra support.' While he has an unusual perspective on the issue, Huberman refused to say where he stands on the stalled proposal for a gay high school. To parents who might be uncomfortable with a gay CEO running the public schools, he said, 'There are always those who will look to divide us. I'm focused on what unites us. What I believe unites every Chicagoan is the need to have a world-class educational system for our kids.'"
Huberman, the former president of the Chicago Transit Authority, was selected to replace outgoing schools chief Arne Duncan, who is Obama's Secretary of Education.
Ron Huberman: The mayor's man [sun times]