As a court case against 19-year-old Brit Gavin Alker progresses, disturbing details are emerging about the gay bashing death of Liverpool teen Michael Causer, who survived for eight days in the hospital with a swollen brain following an attack by three other youths.
That swelling was apparently the result of blunt, brutal strikes with a hardback book as he slept.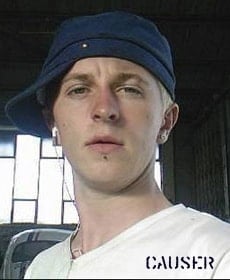 Alker, along with 19-year-old James O'Connor, are accused of the murder, which occurred at Causer's "friend" Michael Binsteed's grandmother's home, and not by a gang of youths in the street, as they had once reported. Causer was upset about the end of a recent relationship and had been out with his "friend" Binsteed and others drinking, and had fallen asleep in an upstairs bedroom. Binsteed has been charged with perverting the course of justice.
The Liverpool Echo relays the gruesome details:
"As he slept, Alker arrived at the house. It is alleged he was laughing with Binsteed about Mr Causer being gay. Mr Pratt told jurors Alker and O'Connor went up the bedroom where they launched a 'sustained and brutal attack' on naked Mr Causer, causing numerous facial fractures and swelling to the brain. He said: 'He was punched and kicked and Alker struck him in the face and head with a hardback book. As he attacked him, Alker was saying things like: 'You little queer faggot'.' After the attack, it is alleged Alker said: 'He's a little queer, he deserves it.' At about 9am it is alleged the men dressed Mr Causer and carried him downstairs to the floor of conservatory, where he slept again. Jurors heard Alker showed no remorse, even using a cigarette lighter to burn his leg hairs and threatening to rip Mr Causer's body piercings out with a knife. It is alleged a plot was hatched and the men decided to carry Mr Causer out to the street. He was bleeding heavily from his nose and mouth and the emergency services were called. Binsteed and O'Connor later told paramedics their friend had been attacked by unknown men in the street. In interview, Alker later admitted punching Mr Causer twice, but said it had been in self-defence. He denied shouting any homophobic abuse. Binsteed, 18, of Evelyn Avenue, Prescot, has admitted perverting the course of justice. O'Connor, 19, formerly of Huyton, now of The Clough, The Brown, Runcorn, has already pleaded guilty to murder."
Previously
Michael Causer, Teen Victim of Brutal Homophobic Attack in UK, Dies [tr]