The Church of Jesus Christ of Latter-day Saints waited until late Friday, one day before the filing was due, to turn in the first report detailing non-monetary expenditures related to the passage of Proposition 8: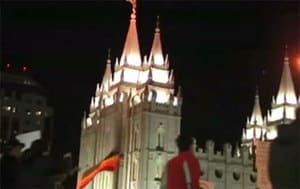 "The disclosure comes as the church is being investigated by the state's campaign watchdog agency for violating state laws by not fully disclosing its involvement in the campaign before voters cast ballots on Nov. 4. While many church members had donated directly to the Yes on 8 campaign – some estimates range as high as $20 million – the church itself had previously reported little direct campaign activity. But in the filing made Friday, the Church of Jesus Christ of Latter-Day Saints reported thousands in travel expenses, such as airline tickets, hotel rooms and car rentals for the campaign. The church also reported $96,849.31 worth of 'compensated staff time' – hours church employees spent working to pass the gay marriage ban."
Fred Karger of Californians Against Hate notes discrepancies between amounts disclosed by the Mormon church and those disclosed by ProtectMarriage.com (the official Yes on 8 committee), and asks:
"Where are the rest of your non-monetary expenditures Mormon Church? What about the phone banks, precinct walks, all the slick videos and commercials, direct mail, busses, legal bills from your California political law firm, etc.? They could not all have occurred until late September and October. It is clear that you began your work in June. And why didn't ProtectMarraige.com report any earlier non-monetary contributions from the Mormon Church? Their report does not match up with yours."
The Fair Political Practices Commission, which is investigating complaints about the church's involvement, declined to comment on the report.