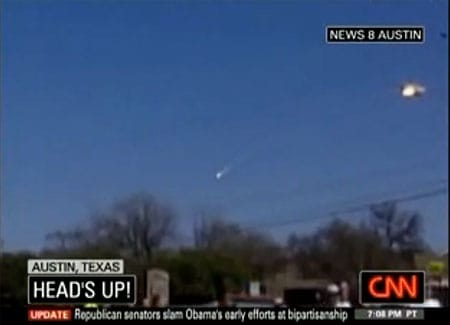 The sky is falling!
A fireball that was caught on film over Austin, Texas, seen and reported by many, was possibly thought to be debris from two satellites that collided in orbit last week.
However, Dallas' WFAA reported this morning that the debris was unrelated to the satellite collision. Said Major Regina Winchester, with the U.S. Strategic Command: "There is no correlation between the debris from that collision and those reports of re-entry."
In Kentucky on Friday night, however, (via slog) an alert was issued by NOAA's National Weather Service Weather Forecast Office for Jackson, Kentucky, warning residents about explosions and earthquakes caused by debris from space:
PUBLIC INFORMATION STATEMENT
NATIONAL WEATHER SERVICE JACKSON KY
1145 PM EST FRI FEB 13 2009
…POSSIBLE SATELLITE DEBRIS FALLING ACROSS THE REGION…
THE NATIONAL WEATHER SERVICE IN JACKSON HAS RECEIVED CALLS THIS
EVENING FROM THE PUBLIC CONCERNING POSSIBLE EXPLOSIONS AND…OR
EARTHQUAKES ACROSS THE AREA. THE FEDERAL AVIATION ADMINISTRATION HAS
REPORTED TO LOCAL LAW ENFORCEMENT THAT THESE EVENTS ARE BEING CAUSED
BY FALLING SATELLITE DEBRIS. THESE PIECES OF DEBRIS HAVE BEEN CAUSING
SONIC BOOMS…RESULTING IN THE VIBRATIONS BEING FELT BY SOME
RESIDENTS…AS WELL AS FLASHES OF LIGHT ACROSS THE SKY. THE CLOUD OF
DEBRIS IS LIKELY THE RESULT OF THE RECENT IN ORBIT COLLISION OF TWO
SATELLITES ON TUESDAY…FEBRUARY 10TH WHEN KOSMOS 2251 CRASHED INTO
IRIDIUM 33.
Watch film of the Austin, Texas fireball, AFTER THE JUMP…