Catch Jennifer Hudson's incredible comeback performance of "The Star-Spangled Banner" at the Super Bowl? Pre-game show producer Ricky Minor says that both Hudson and Faith Hill lip-synced their performances to tracks he insisted they submit a week before the show.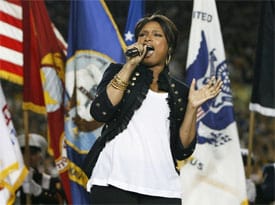 Said Minor: "That's the right way to do it. There's too many variables to go live. I would never recommend any artist to go live because the slightest glitch would devastate their performance. ..This was such an important performance, because it's the first time everyone has seen Jennifer," Minor said. "But she's in such a great place, with such great spirits and time can heal her wounds."
It was Hudson's first public appearance since the shooting tragedy that took the lives of her mother, brother, and nephew in Chicago. According to the AP, "Minor said Hudson was very calm and prepared, and he counseled her to take the deep breath before she began so she could put herself in the moment."
I don't know. Looked pretty damn live to me. As a performance, it was one of the finest I've seen.
Watch it, AFTER THE JUMP…
Previously
Towleroad TV: Spotlight on Jennifer Hudson [tr]