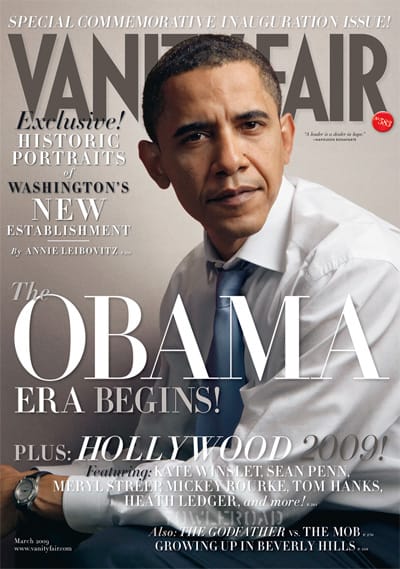 Vanity Fair forgoes its annual Hollywood "group shot" Oscar issue for a comprehensive portfolio of the Obama administration, shot by Annie Leibovitz during the inauguration. Although it appears they reused the cover.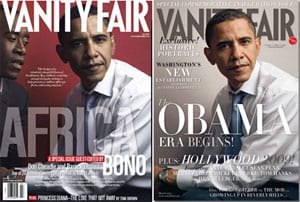 Maureen Orth did several interviews, including one with Desiree Rogers: "No previous White House Social Secretary has had a Harvard M.B.A. Nor have any talked openly about 'branding' the Presidency. But Desirée Rogers, the glamorous Chicago businesswoman, social figure, and friend of the Obamas', is a change agent. As she told me two days after the inauguration, she wants to be the producer of an inclusive show-and-tell from 1600 Pennsylvania Avenue. One of the first events Rogers organized was a White House ceremony to honor Lilly Ledbetter, whose fight for equal pay for women led to the Lilly Ledbetter Fair Pay Act, which President Obama signed into law last Thursday. 'You have to think of the social office as a conduit by which we bring to life the ideals of the Obama Presidency,' Rogers says. One of those ideals is service, and according to Rogers, 'If we have an artist in the White House at night, we would inspire them to do community service in the daytime.' I asked Rogers if she would look for inspiration to John F. and Jacqueline Kennedy, the most socially adept First Couple in memory. 'I don't believe we are going to recreate Camelot,' she says. 'Certainly there are very valuable lessons to learn from Camelot. Our hope is we will have our own administration…. The American people have spoken. They want new ideas.' Clearly that implies reaching out beyond Georgetown, which since the time of the Kennedys has been the center of the capital's social life. This is not your mother's Camelot. Rogers's goal, she says, is 'to create an environment of inclusiveness so that all Americans feel like the White House is their home.' Diversity is a major theme, and it was no accident that a Cuban immigrant, Isabel Toledo, designed Michelle Obama's inaugural outfit, and a young Asian-American, Jason Wu, created her Inaugural Ball gown."
Here's the slideshow.
VF also has a portfolio of portraits and caricatures of every president since Woodrow Wilson, all who have appeared in the magazine.
Another of Leibovitz's portraits, of Caroline and Ted Kennedy, AFTER THE JUMP…