A judge ruled Friday that a lesbian couple married in Canada can divorce in New Jersey, the AP reports, in the first request of its kind in the state: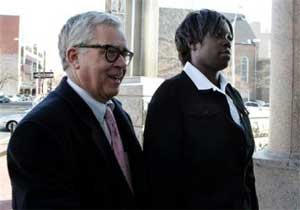 "The wider implications weren't immediately clear, but Superior Court Judge Mary Jacobson said New Jersey has a long history of recognizing marriages that are valid where they were performed. The state doesn't let gays marry but does allow civil unions. The state Supreme Court has ruled that gay couples have the rights to the same legal standing as married heterosexual couples. The women — La Kia Hammond (pictured, with lawyer Stephen Hyland) of Trenton and Kinyati Hammond of New Castle, Del. — were married in Victoria, British Columbia, in March 2004 and lived together in North East, Md. In 2005, La Kia, then 29, was found to have a terminal form of muscular dystrophy. She said doctors gave her two years to live. About three years ago, she left Kinyati and moved with her daughter from a previous relationship to Trenton. Now, she says, she is in love again and wants to marry before she dies. But without a divorce that's recognized in Canada, her lawyer says, she cannot wed again there."
New Jersey is working toward full equality for its citizens following a report late last year that showed overwhelming evidence of the inferiority of civil unions to marriage.