Former President Bill Clinton is being asked to change the location of a speaking engagement at major Prop 8 donor Doug Manchester's Manchester Grand Hyatt in San Diego on February 15th.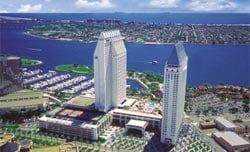 A group of leaders which includes San Diego City Councilmember Todd Gloria, Rick Jacobs of the Courage Campaign, Jess Durfee of the DNC, activist Cleve Jones, and Californians Against Hate founder Fred Karger, have requested that Clinton not violate their boycott and move his speech to the International Franchise Association to a new location in light of Manchester's $125,000 contribution to pass Proposition 8.
In related news, Karger is planning on filing a second complaint with the California Fair Political Practices Commission regarding the Church of Latter Day Saints' financial involvement with the Proposition 8 campaign. A recent last-minute filing detailed more than $190,000 non-monetary expenditures by the Church to pass the measure.
Said Karger: "I'm calling this Mormongate. I think there's been a massive coverup."
Read the group's public letter to Clinton, AFTER THE JUMP…