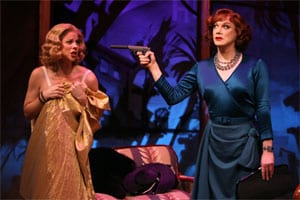 But even labored Busch is better than no Busch at all during the theatre season. His fertile imagination has come up with three stories in this latest concoction. The B-movie gangster/horror/zombie movie that mother/son screenwriting team is brainstorming into existence in their Omaha living room along with the fairy tale that the mother once told her son and that haunts them still with its theme of escaping the talons of parental love. At times the weaving of all three stories by director Carl Andress is lovely to behold on the small Lortel stage and at other times it just seems as crowded as Busch's fertile mind.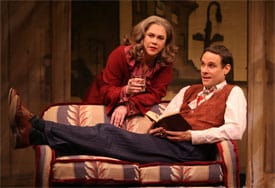 Kathleen Turner plays the screenwriting mother with her usual gravelly aplomb and is now proving the pro she is by doing the part in a cast after injuring her foot. Jonathan Walker is touching as her son. The other cast members hit just the right notes — a heightened form of humor and, yes, honesty — that being able to play in the Busch League calls for. Busch's almost worshipful appreciation of camp is finally not campy itself. It sashays right past camp into the realm of a kind of realism that is risible, sophisticated, droll. He just sashayed into a bit of an exit-less dramatic maze with this outing. I look forward to the next one though. He's a New York treasure.
T T (out of 4 possible T's)
The Third Story, MCC Theater at The Lucille Lortel Theatre , 121 Christopher St, New York. Ticket information here (closes March 15th).
All photos: Joan Marcus
Recently reviewed…

On the Stage: Pal Joey and Hedda Gabbler [tr]

On the Stage: Billy Elliot, Shrek, 13, and Prayer for My Enemy [tr]

On the Stage: Back Back Back and Farragut North [tr]

On the Stage: Streamers and The Language of Trees [tr]

On the Stage: All My Sons and Speed-The-Plow [tr]