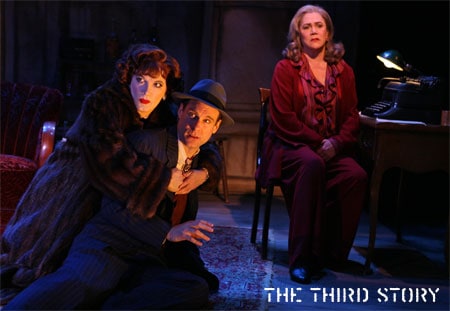 KEVIN SESSUMS
Kevin Sessums recently reviewed 'Pal Joey' and 'Hedda Gabbler' as well as 'Billy Elliot', 'Shrek', '13', and 'Prayer for My Enemy' for Towleroad. You can also catch up with Kevin online at his own blog at MississippiSissy.com.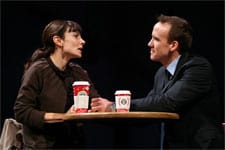 In my review of Hedda Gabbler last week, I mentioned the great late 19th/ early 20th Century actress Minnie Maddern Fiske. Mrs. Fiske's most famous title role, however, was that of Becky Sharp back in 1899, a play she revived in 1904 and 1911 — and a role for which Miriam Hopkins received an Oscar nomination in 1936. A bit more trivia: Billie Burke — many most fondly recall her as Glinda the Good Witch in The Wizard of Oz or as the wife of Flo Ziegfeld or, as I do, the harried hostess Millicent Jordon in George Cukor's Dinner at Eight — played Lady Bareacres in that same Hopkins movie based on Thackeray's Vanity Fair.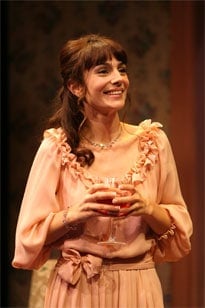 Such trivial thoughts went through my own harried mind during the early longueurs of Becky Shaw, the new comedy at Second Stage that purposefully recalls that earlier Becky who cunningly made her way up through British society of the early 19th century. This Becky (Annie Parisse) — who doesn't turn up in this play until half way through it — is just as cunning but much more passive/aggressive, as befits the 21st Century. (Myrna Loy starred as Becky Sharp in her own updating of the novel to the 20th Century in a 1932 movie that borrowed the title of the novel — and, yes, I'm choosing to ignore Reese Witherspoon's Tracy Flick-like take on the part.) Two other characters in Becky Shaw possess this same passive/aggressive trait – Suzanna (Emily Bergl) and her feminist husband Andrew (now played by Daniel Eaves), who fix up Becky on a blind date with Suzanna's adoptive brother Max (David Wilson Barnes).
The unflinchingly unsentimental Max and Susanna's mother, the acerbic Susan who gallantly copes with a case of multiple sclerosis (Kelly Bishop) are anything but passive/aggressive. At first these two — Max and Susan — seem the villains in the piece and yet by the end it is their gimlet-eyed take on romance and life itself that endears us to them as the other three characters are bleary eyed from gazing at their own navels. All the characters share a lacerating neediness but it is Max and Susan who take that neediness and fashion an outward toughness that masks the only true tenderness to be found in this comedy that can be downright mean when reaching for its punchlines — which is not to say I did not laugh a lot and out loud.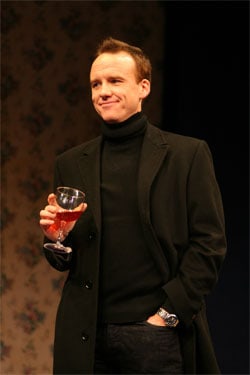 David Wilson Barnes almost steals the show as Max. He plays the part as if he is the long-lost son of Kevin Spacey and Vince Vaughn. There is a glibness he is able to call forth that seems to be fomented by equal parts anger and anguish. I say almost steals the show because it is Kelly Bishop — the original Sheila in A Chorus Line — who walks stiffly away with it in her two fiendishly funny scenes that begin and end the play.
One of the problems, however, seems to be that the playwright Gina Gionfriddo, took the other part of Thackeray's title — A Novel Without A Hero — too literally. There is no one finally to root for in this comedy of bad manners, directed by Peter DuBois. The text keeps changing focus. The audience, like the characters themselves, seems a bit lost at the end of the evening.
T T 1/2 (out of 4 possible T's)
Becky Shaw, 2econd Stage Theatre, 307 w. 43rd Street, New York. Ticket information here (closes March 15th.
***THE THIRD STORY
I'd love to see the great Charles Busch adapt or update Vanity Fair and play either Becky Sharp or Lady Bareacres. It might be a bit more entertaining than watching his labored efforts at portraying his latest creations — Queenie Bartlett, an Ida-Lupino-like B-movie gangstress and Baba Yaga, a crone-like witch in the grimmest of fairy tales — in his play, The Third Story, which was originally produced at the La Jolla Playhouse and is now having its New York premiere at MCC Theater's outpost at the Lucille Lortel on Christopher Street.
Continued, AFTER THE JUMP…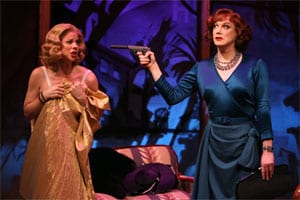 But even labored Busch is better than no Busch at all during the theatre season. His fertile imagination has come up with three stories in this latest concoction. The B-movie gangster/horror/zombie movie that mother/son screenwriting team is brainstorming into existence in their Omaha living room along with the fairy tale that the mother once told her son and that haunts them still with its theme of escaping the talons of parental love. At times the weaving of all three stories by director Carl Andress is lovely to behold on the small Lortel stage and at other times it just seems as crowded as Busch's fertile mind.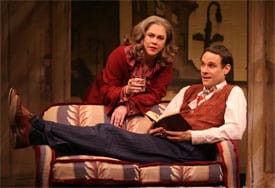 Kathleen Turner plays the screenwriting mother with her usual gravelly aplomb and is now proving the pro she is by doing the part in a cast after injuring her foot. Jonathan Walker is touching as her son. The other cast members hit just the right notes — a heightened form of humor and, yes, honesty — that being able to play in the Busch League calls for. Busch's almost worshipful appreciation of camp is finally not campy itself. It sashays right past camp into the realm of a kind of realism that is risible, sophisticated, droll. He just sashayed into a bit of an exit-less dramatic maze with this outing. I look forward to the next one though. He's a New York treasure.
T T (out of 4 possible T's)
The Third Story, MCC Theater at The Lucille Lortel Theatre , 121 Christopher St, New York. Ticket information here (closes March 15th).
All photos: Joan Marcus
Recently reviewed…
On the Stage: Pal Joey and Hedda Gabbler [tr]
On the Stage: Billy Elliot, Shrek, 13, and Prayer for My Enemy [tr]
On the Stage: Back Back Back and Farragut North [tr]
On the Stage: Streamers and The Language of Trees [tr]
On the Stage: All My Sons and Speed-The-Plow [tr]