Earlier this week I posted a video of Ongina breaking down after winning a MAC Viva Glam cosmetics competition and revealing his HIV status on  RuPaul's Drag Race.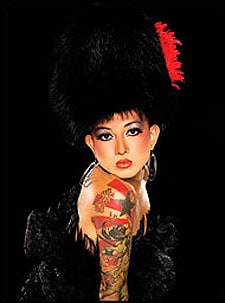 City Room reports that MAC had Ongina deliver a $25,000 gift to the Harvey Milk school in New York on Wednesday to help the school bridge a budget gap caused by the recession:
"Hetrick-Martin, which provides many services to the school, recentlylet go 20 percent of its staff in December because of a drop in privateand government funds in its $5 million budget. At the same time, theinstitute has seen a surge in demand for its services for gay youth,such as hot meals and homeless support, since the summer. To help with the gap, the MAC AIDS Fund,a foundation arm of the makeup company, donated $25,000 to coveroperational costs. "The funding is to support our relationship with theschool," Mr. Krever said. To make that gift, a 27-year-old drag queen who started his career in New York City visited Harvey Milk School on Wednesday.Ryan Ong Palao…started suffering harassment when he first became more flamboyantafter coming out in high school in a small town in Washington State. Hewould have appreciated a 'school that provided me as much of aneducation as a comfort zone.' His drag identity is Ongina, a play offhis middle name."
StyleItOnline interviews Ongina, AFTER THE JUMP…