Last week, in a show of support for its gay and lesbian officers, the North Wales Police raised a rainbow flag to mark a series of internal staff activities aimed at celebrating Lesbian, Gay, Bisexual History Month.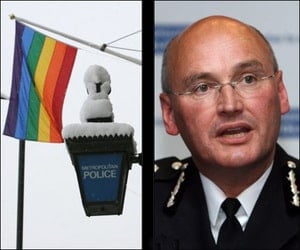 Said Wales Assistant Chief Constable Ian Shannon: "Sexuality is a highly emotive and personal matter and I have great respect for those involved with The Gay Police Association who, over the years, have worked selflessly to promote equality within our organisation. I am immensely proud to support our gay officers and staff and I hope that this event sends out a clear message as we continue to strive for inclusivity and equality."
The East London Metropolitan police station made a similar move, but it outraged Sir Paul Stephenson (right), the new Met commissioner, who demanded the flag be taken down.
"Critics believe the London flag row is a legacy of Sir Ian Blair's stint as Met chief, when he was often accused of being obsessed with political correctness. At one stage he asked officers to declare whether they were homosexual – a first step to quotas for numbers of gay and lesbian officers in the Met. And officers at an exam for prospective chief superintendents were once asked how they would react if they realised a male colleague was a transvestite after seeing him dressed as a woman in a pub. Sir Paul, keen to portray himself as a more traditional leader, has said he has no intention of being a 'celebrity' commissioner and his main focus is to fight crime and not bow to a PC agenda."