Two weeks ago I posted about the closure of The Oscar Wilde Bookshop, the nation's oldest, in New York's Greenwich Village.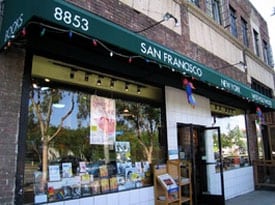 It seems the gay lit world will see another casualty. L.A.'s A Different Light bookstore, in the heart of West Hollywood's gay strip, will close its doors after 30 years, Instinct's The Watercooler reports:
"Bill Barker, ADL's owner, spoke with me earlier this evening to discuss the nature of the book business, the state of the economy, the gay community at large and what led to the demise of a marquee business in West Hollywood. Barker pointed to two significant events that negatively affected sales and ultimately drove the store under. The first was a major construction project renovating a stretch of Santa Monica Boulevard that started in 2001 and lasted nearly 2 years.
"[The city] came in and ripped all the sidewalks out and foot traffic and parking disappeared from West Hollywood for a year or 18 months and it never came back," he says.
While the end result was a much wider sidewalk in the popular parts of town, many small businesses suffered and shut their doors during the construction."
Barker tells the magazine the A Different Light in San Francisco will remain open, as will the online business at ADLbooks.com.