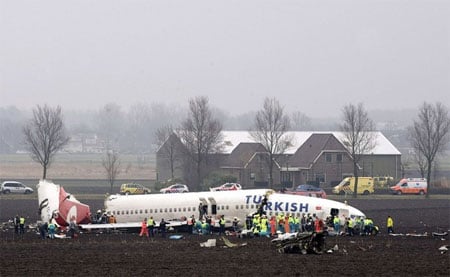 More than 100 people survived a plane crash at Amsterdam's Schiphol Airport this morning. Nine people have died:
"About 134 people, including crew members, were aboard the Boeing 737,
which was bound for Amsterdam's Schiphol International but came down at
least a half-mile from a runway, according to one eyewitness. A busy
highway separates the crash site from the airport. Schiphol airport spokesperson Ruud de Wever told reporters that nine
people were killed, and 25 were badly wounded. Another two dozen or so
had lesser injuries, officials said. Airline officials initially had
said everyone on board the plane had survived. 'At this moment there are nine victims to mourn and more than 50
injured,' said Michel Bezuijen, acting mayor of Haarlemmermeer, in a
televised news conference. Haarlemmermeer is a suburb of Amsterdam
where the airport is located. News photos from the scene showed dozens of ambulances and rescue
crews gathered around the white Boeing 737, which came to rest on its
belly alongside the highway.The plane broke into at least three pieces, with the worst damage at
the rear of the fuselage. The wings appeared to be intact and there was
no obvious evidence of explosion or fire"
The cause of the crash was not immediately apparent.