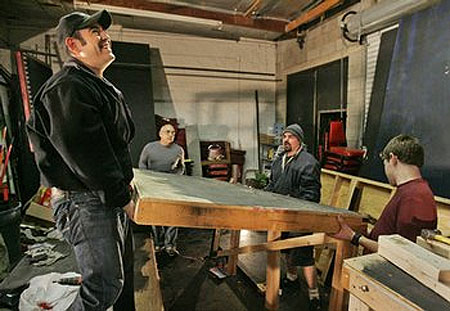 Ion Theater, a small company in San Diego, has packed up and moved out of its space in protest of their landlord's hefty donations to Proposition 8:
" Last year, company Chairman Terrence R. Caster – whose company owns the A-1 Self Storage network as well as the Stadium Industrial Park where Ion was located – gave nearly $700,000 in support of Proposition 8. The initiative passed Nov. 4. 'We don't mean him any malice; we don't mean him any harm,' Ion executive artistic director Claudio Raygoza said of Caster. 'We understand he was expressing his rights as a citizen in a democracy.' But, Raygoza added, 'We couldn't sleep at night knowing we were funneling money to an organization that was seeking aggressively to prohibit people's rights.' The five-year-old Ion is known for its strong emphasis on diversity and inclusion in its programming; Paris and Raygoza, the company's founders, are also partners in life. Raygoza said the two didn't realize until late last year that the theater's landlord was one of Proposition 8's biggest financial backers. Caster became the target of a heated campaign by the gay community after his donations and those of family members were publicized."
The company is now looking for a permanent home.