Anti-gay, anti-liberal Tennessee church shooter Adkisson pleads guilty, gets life.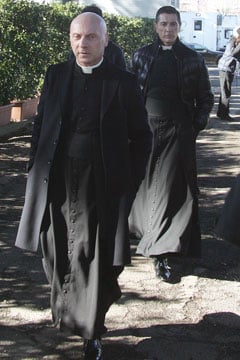 Dolce and Gabbana cameo as priests in new film.

Rihanna assault injuries horrific.

Twitter suspends fake Dalai Lama account: "Micro-blogging service Twitter on Monday suspended an account said to have been set up the Tibetan spiritual leader, the Dalai Lama, saying it had been created by an impersonator. Twitter co-founder Biz Stone, in an email to AFP, said 'the account was suspended because it violated our Terms of Use regarding impersonation.' The account — twitter.com/ohhdl — was created on Saturday and attracted nearly 20,000 followers in just two days, a phenomenal rate of growth."

Demetri Martin talks Taking Woodstock.

Eight arrested in Phelps bong case: "We've now learned that since investigators began trying to build a case, they've made eight arrests: seven for drug possession and one for distribution. These are arrests that resulted as the sheriff's department served search warrants. We've also learned that the department has located and confiscated that bong. Sources say the owner of the bong was trying to sell it on eBay for as much as $100,000. The owner, who wasn't even at the party, is one of the eight now charged."

Senator Roland Burris addresses Equality Illinois gala.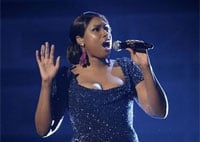 SPOTLIGHT: Jennifer Hudson to tour.

Was Shepard Fairey arrested to embarrass the mayor of Boston? "The obvious question is: Why did the police take so long after the warrant was issued to apprehend their man? Was it a matter of pure incompetence? As admiring fans of his work, were the police giving him opportunity to make appearances and put more art out on the streets of Boston? I don't think so." Also, Fairey sues AP.

Three year battle results in success for students wanting to form gay-straight alliance in Yuma, California.

MAN VS WILD: Foxes jump on trampoline while bears frolic in hammocks.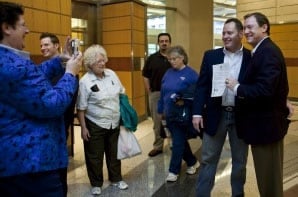 Domestic partner registrations begin in Phoenix, Arizona: "Despite the dreary weather, about 10 gay couples made the trip to Phoenix City Hall Monday morning to be among the first to register with the city as domestic partners."

Gay activists hold kiss-in outside Dallas Museum of Art: " The kiss-in is part of a larger effort by activist groups to raise awareness of gay-rights issues. Queer LiberAction and another group, Join the Impact Dallas, plan to hold mini-wedding ceremonies outside the Records Building downtown on Thursday. Participants plan to request marriage licenses as part of National Freedom to Marry Day. One mother instructed her child to avert his eyes from the kiss-in participants. 'Don't look at them,' she said, grabbing and turning her son's head away. Others simply walked by, avoiding eye contact. One woman murmured, 'It's twisted, very twisted.' But another cited biblical principles, then exchanged hugs with a transgender activist, saying, 'Hate the sin, not the sinner.'"

Dad cuts trust fund of lesbian heiress and reality TV personality Courtenay Semel: "I don't want to be known for all this craziness in my life. It's ruined a lot of friendships and relationships with my friends and my family, most important. I haven't been in contact with my family, and the only way they know what's going on with me is Page Six."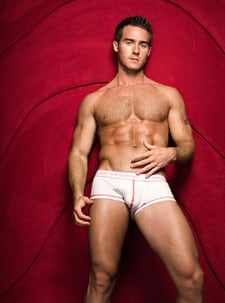 Lance Bass parties with fitness model Bryan Thomas.

Potentially Hazardous Asteroid discovered: no danger till after 2042.

Photo reveals there is no gold at the end of the rainbow, just a freeway.

Police target UK cruising area: "Quiet country track Follingsby Lane has been flagged up on a number of sites as the perfect place for men to meet other men for sex. In a bid to stop this, officers from Washington Neighbourhood Policing Team will carry out regular patrols along the stretch of road. They have issued a stark warning that tough action will be taken against anyone who is caught having sex in public."

University of Texas Catholic Center launches LGBT prayer group: "We want to provide a safe place for young people to talk about this issue — how does it fit in with the Catholic Church teachings? Whether one is gay or straight, it's morally neutral."

Woman files for divorce after husband's gay affair in virtual online game Second Life.