The biggest news of the Grammys didn't take place at the Grammys. Singer Chris Brown turned himself in to authorities last night after he and his girlfriend, singer Rihanna, did not show up to the event, and word quickly spread that Brown was wanted for questioning in an alleged assault: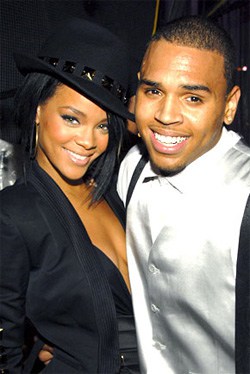 "An official police statement did not name Rihanna, but said the woman in the incident 'suffered visible injuries.' Details of what took place between the two were sketchy, but authorities and sources said that about 12:30 a.m. Sunday, Brown and a woman got into an argument in a rented Lamborghini on North June Street in Hancock Park. Brown stopped the car, the two got out, and the argument escalated. A witness called 911, but police said Brown was gone by the time officers arrived at the scene. The woman identified Brown as her assailant. Authorities did not describe her injuries or whether she was treated for them. The sources said the woman was Rihanna, whose full name is Robyn Rihanna Fenty."
The incident reportedly occurred on the couple's way home from Clive Davis' pre-Grammy party.
The L.A. Times continues: "Brown was booked on a charge of making criminal threats, and police said he remained under investigation for felony charges of domestic violence. 'The exact charge was criminal threats and it is going to be investigated as a criminal threats investigation,' said Police Sgt. Bridget Pickett, who spoke to reporters at the Wilshire Division police station, where Brown was booked. "There may be domestic violence charges added later, but that will be up to the district attorney's office.' Pickett defined a criminal threat as "a threat that is made to a person with the likelihood that it may occur." She said that Brown arrived at the police station about 6:30 p.m. dressed in a T-shirt and jeans. 'He was very professional,' she said. Brown was joined at the station by his lawyer, Mark Geragos, and Geragos' investigator, Scott Ross. After posting $50,000 bail, Brown left the station before 9 p.m."
Rihanna's spokesperson released a statement saying only "Rihanna is well. Thank you for your concern and support."
UPDATE: Brown could do 9 years…
Singer Chris Brown under investigation in alleged assault [la times]
Chris Brown Arrested After Alleged Rihanna Assault [e]