Pam over at Pam's House Blend has more of the details of Michelangelo Signorile's interview with Grant Haas, the church volunteer at the center of the second round of Ted Haggard scandals, but here's the gist of what she recorded.
UPDATE: Watch a clip, AFTER THE JUMP…
Signorile has updated his site with more details.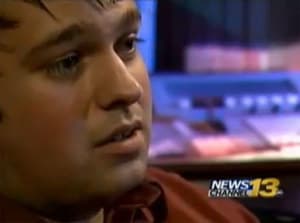 Among the things he revealed:

Haggard told Haas that he could more easily transition to being straight because he's a top and an asshole is similar to a vagina.

Haggard "explained a 'party formula' involving taking crystal-meth, poppers, Viagra, renting pornography and jerking off alone or with others. Haggard also told Hass that he knew a lot of people who were into this type of activity and found it very enjoyable."

After all the sex talk, Haggard suggested Haas find a good girl to marry and offered up his own daughter.

A church volunteer, Christopher Beard, who worked with Haggard on the church's 24/7 lean-up program for troubled men, told Haas how he and Haggard wnjoyed watching the young men changing in the locker room after their "boot camp". Beard apparentlly later left the church over sexual misconduct.

Haggard was high on drugs at the pulpit. The meth use and kink were much more severe than previously described: "Ted also told him that he tied up his testicles to some rod…"

Gayle Haggard knew much more than she alludes to.
Signorile promises some video later today.
Watch a clip, AFTER THE JUMP…
Haggard's Pump 'n Go: Serving You 24/7 [the gist]
Haggard beans-spiller Grant Haas on Mike Signorile Show [pam's house blend]