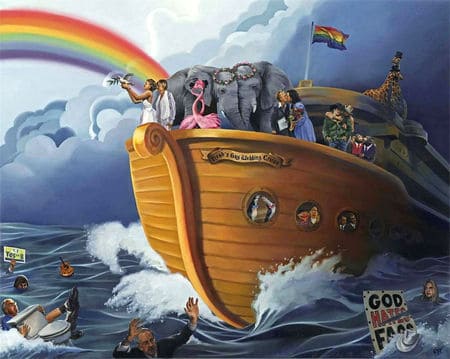 In my online travels I ran across this kitschy take on Noah's Ark yesterday on Flickr and was momentarily stunned by the gayness of it all. 'Noah's Gay Wedding Cruise', which artist Paul Richmond created for a gallery show called "Sweet & Low: Optimism in a Pessimistic Age" at Gallery Arcane in San Francisco, features an iconic cast of characters — Ellen & Portia, Rosie and Kelli, Jack Twist and Ennis del Mar, Bert and Ernie, Elton John and David Furnish as well as penguins and assorted other homo fauna.
However, I was much more amused by the range of drowning sinners bobbing about in the flood: a sopped Ann Coulter, Larry Craig clinging to a toilet, Sally Kern, Fred Phelps, and Kenneth Starr. That's Pat Boone's guitar. A 'Yes on 8' supporter.
As art it's not really up my alley, but I could certainly appreciate the message.