The Queen Mother's former home — Scotland's Castle of Mey — has become a popular wedding venue, but its trustees have decided that only "Christian weddings" will be performed there. It's a position that may be untenable under anti-discrimination laws, according to The Daily Mail: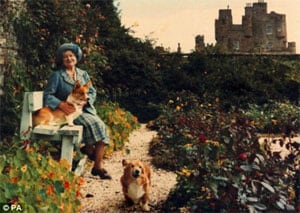 "The location is being billed as 'Scotland's latest romantic wedding venue.' However
gay rights group Outrage described the decision not to hold same sex
civil ceremonies as 'ridiculous' given The Queen Mother's well-known
association with gay people – and claimed it appeared to be 'illegal'
under sexual orientation discrimination. But the Castle of Mey
said its decision was not outside the law as it did not have a wedding
licence – and under the legislation only Christian weddings could be
held there, as ministers or priests were individually licensed to
perform. But it stressed that the trustees had decided it would
not hold civil ceremonies, which include same sex partnerships, or
those of a non-Christian nature…"
Said David Allison spokesman for [gay activist group] Outrage: "This seems even more ridiculous given that The Queen Mother
surrounded herself with gay people – including 'Backstairs' Billy
Tallon (her devoted servant). Doing this at the Queen Mother's old residence is particularly odd. She had no problem with gay people – quite the opposite."