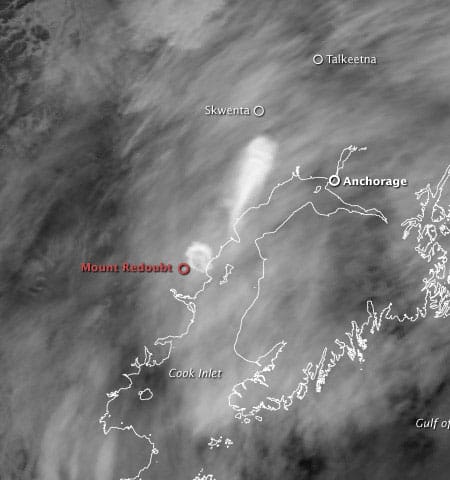 Since the recent eruptions of Alaska's Mount Redoubt Volcano occurred at night, no satellite photographs are available, but thermal infrared imagery detected two plumes in a shot captured at about 12:30 am on March 23, 16 minutes after the third of five eruptions.
NASA: "Scientists estimated the plume reached a height of 50,000 feet above sea level. As the ash spread north and northeast, ashfall advisories were issued for communities north of Mt. Redoubt. Geologists warned of the possibility of mudflows and debris avalanches from melting ice on the mountain's summit."
Ash was also projected to settle on Louisiana Governor Bobby Jindal. Volcano monitors were "spot-on" with warnings:  "Without instruments in the ground, we would not have been able to tell you this was coming."