Dr. Sanjay Gupta has withdrawn from consideration as U.S. surgeon general, CNN reports: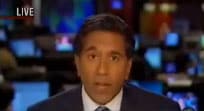 "The neurosurgeon made that decision 'in order to continue devoting
time to his medical career and of course his work at CNN,' Klein said. Sources said in January that Gupta met then-President-elect Obama in
Chicago, Illinois, in November to discuss the post. Gupta has declined
comment. The transition team was impressed with the combination
of Gupta's past government experience, as a White House fellow in 1997
and a special adviser to then-first lady Hillary Clinton, along with
his medical career as a neurosurgeon and his communication skills, the
transition source said."