If a Gay-Straight Alliance can't hold a fundraiser at a yogurt shop, then where can they hold it?!?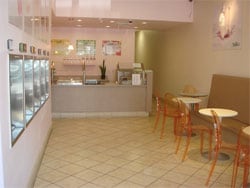 "The Gay Straight
Alliance of Upland High School was to hold its first yogurt fundraiser
at Yogurtime to raise money for the club, but the event was canceled
due to complaints from shop customers. Club members contacted Daniel Solis, the Southern
California program director for the Gay Straight Alliance Network,
after they were told about the cancellation. 'Legally the yogurt shop does have the right to do that.
But it's unfortunate that they would cave in from negative pressure
from the community and not stand up to help show the community what GSA
is about instead of feeding into the pressure,' Solis said. The students were given some pointers on how to deal with this type of situation, Solis said. "
Said Yogurtime manager Crystal Cho: "It was canceled for the safety of everyone. It's good to bring
awareness to the community but apparently a lot of people did not
accept that. I didn't expect people to call and read the
Bible to me."