Charles Carlson, an openly gay candidate for Minneapolis City Council, has dropped out of the race, the Minnesota Independent reports, following revelations that he fabricated his biography, deceiving financial supporters and the Minneapolis gay community: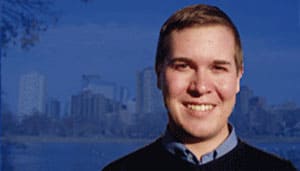 "Carlson, who speaks with a thick British accent, claimed to have grown up in England. It turns out, he hadn't. He also claimed to have been enrolled in Princeton University, which
proved to be false. Carlson supplied the Minnesota Daily with false
transcripts to Princeton and a New Hampshire school. He also claimed to
have attended two schools in England, but those schools had no record
of his attendance. Carlson claimed to have officiated tennis at the 2008 Beijing
Olympics, a claim he admitted was false. He also claimed a childhood
connection to Secretary of State Hillary Clinton, which he later
admitted was false."
The lies were uncovered by a Star Tribune gossip columnist who discovered a police report for harassment by a former boyfriend. Carlson had also been ordered to a mental institution for schizophrenic affective disorder by a Court in 2003.
Carlson announced his withdrawal on his campaign site, but offered a different reason for dropping the campaign: "This past week, I was offered an opportunity to officiate professional
tennis at various tournaments around the world. With this presented to
me, I cannot whole-heartedly continue this campaign."
The paper adds: "The openly gay Carlson received a large amount of financial, volunteer
and in-kind support from Minneapolis' LGBT community and businesses
over the course of his campaign, as well as from University of
Minnesota students, where Carlson was enrolled."
Gay city council candidate drops out, admits falsifying much of his life story
[minnesota independent]