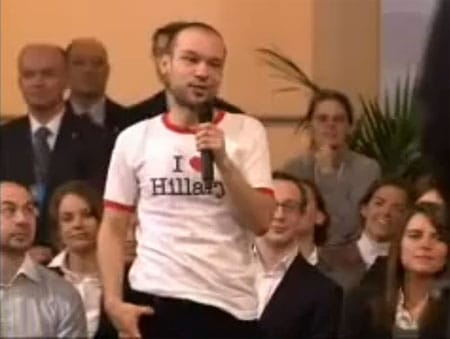 Secretary of State Hillary Clinton called on a man at a Q&A session at the European Parliament today  "because he [was wearing] a T-shirt that [said] 'I Love Hillary'" on it.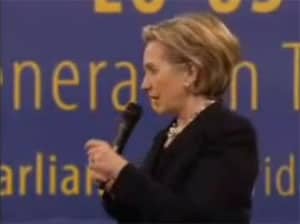 The man stood up and said: "My name is Max. I am from Moldova, and I am a gay rights activist. In seven countries in the world homosexuals are sentenced to death and many more to prison. A lot of gay men around the world die because of the HIV AIDS policies that the Bush administration had that did not allow to spend money on prevention for men who have sex with men. How do you see the foreign policy of the United States changing in the coming years in the field of human rights and in particular sexual rights and gay and lesbian rights?"
As I've noted before, things certainly aren't good in Moldova.
Answered Clinton: "Human rights is and always will be one of the pillars of our foreignpolicy. And in particular, the persecution and discrimination against gays andlesbians is something that we take very seriously. It is terribly unfortunate that right now in unfortunately many places in the world violence against gays and lesbians, certainly discrimination and prejudice are not just occurring but condoned and protected. And we would hope that over the next few years we could have some influence in trying to change those attitudes…"
Watch Clinton's entire answer, AFTER THE JUMP...