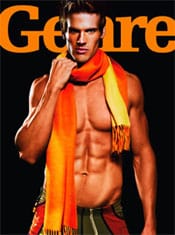 Genre magazine has suspended publication due to the recession, the Washington Blade reports, though the other publications under Avalon Equity's umbrella — the Washington Blade, Southern Voice, South
Florida Blade, New York Blade
and HX magazine — will continue to operate, according to CEO David Unger.
Said Unger:  "We thank all of our readers, advertisers and editorial staff for their
support throughout our more than 16-year history and hope that we can
re-establish our relationship when times are better."
In early February it was revealed that Avalon Equity had been forced into receivership by the Small Business Administration. Gay City News reported: "In its 2008 lawsuit seeking to force the receivership, the SBA wrote
that the 'capital impairment' was 61 percent in August of 2007 and that
it rose to over 134 percent by December of that year…The percentages
cited in the lawsuit suggest that Avalon had little or no capital left
as private investors were pulling their money out, businesses owned by
Avalon were losing money, assets in the fund lost value, or some
combination of the three.""